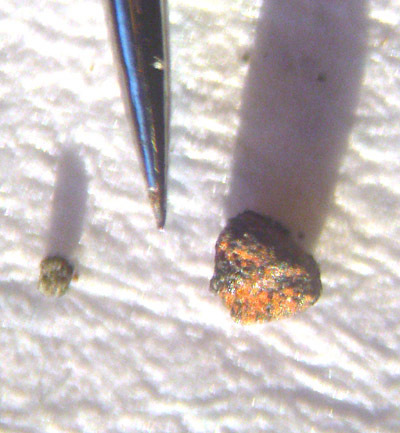 Note: This thing is a spec of dust – maybe 200 microns in diameter.
I'm a little bit embarrassed about the last time I asked, but it's different this time, really.
They're falling all the time
You see, just becuase you're not awakened at night by a crashing sound, then wander into the living room to find a smoking crater in the floor and a hole in your ceiling that you could drop a refrigeratior through, doesn't mean that a meteorite didn't land on your house.
My son and I set up a micrometeorite collection rig in the back yard as a school science project, and while we were waitng for the space dust to fall into our trap, I ran a magnet along the inside of our house's rain gutter – I read that this was a good way to find metallic micrometeorites.
Expert Opinions Needed
Quite a few particles stuck to the magnet. This one looked the most like a meteorite to me. To get a sense of scale, the pointy thing in the picture is the tip of a small sewing needle, and the white surface is #2o bond.
What do YOU think, micrometeorite, or not ?