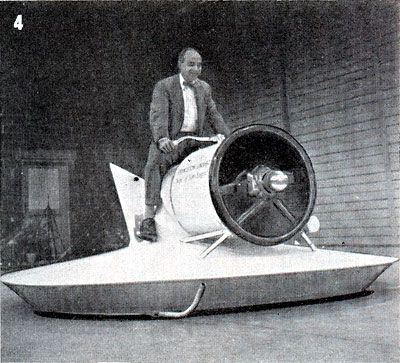 When I was in 5th grade, I saw an ad in the back of Boy's Life magazine for a set of plans that promised show you how to build a personal hovercraft using simple hand tools and old vacuum cleaner motor. Needless to say, I knew that this was going to be the best $2 I had ever spent.
I was going to be pulling up at school, stepping out of my own personal Jetson's-mobile, while the other kids were busy chaining up their Bicentennial Sears Free-Spirits, and hand-me-down Sting-Rays. I guess I knew that there was going to be an electrical cord issue with the vacuum cleaner motor, but that I could probably figure something out with a lawnmower engine or something.
The plans turned out to be a little disapointing. I would have settled for any of the fine vehicles pictured in this June, 1960 Popular Mechanics spread.