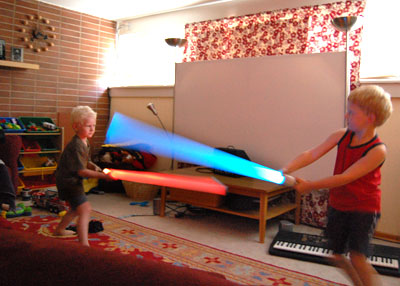 Whip up an impromptu set of lightsabers and have your little Jedi's learning the way of the Force in minutes. We made up this set of dueling sabers with some garbage and literally about 2 minutes of work.
The tubes that we used are the cores that are left over when the plotter at work runs out of paper. If you don't use large rolls of plotter paper yourself, try hitting up your local Kinko's, they probably throw these away every day.
Materials:
1 pair of red/blue 3D glasses
2 plastic tubes
2 flashlights
Some reflective material
Tape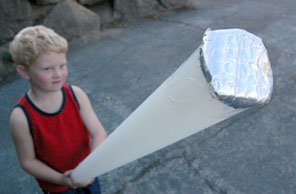 Put them together
Remove the red and blue filters from the 3D glasses, and tape one filter over the light-emitting end of each flashlight.
Insert the flashlights into the tubes and secure with several tight windings of tape.
Cap the other end of the tubes with a reflective cap of shiny material, with the shiny side facing inward (I used some scrap mylar duct insulation, taped over the end). This will illuminate the far end of the tube.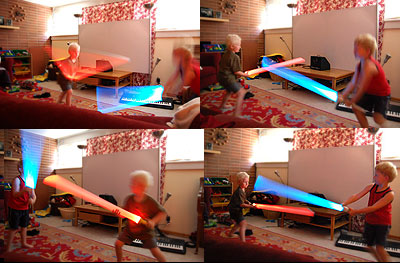 Now, use The Force.