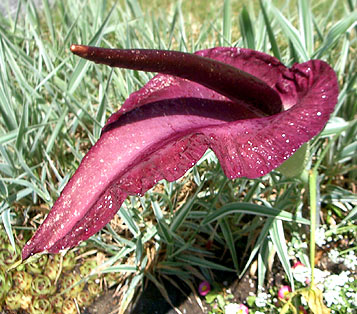 While the other fowers are fighting it out in the highly competitive market for pollinating insects by emitting sweet fragrances to advertise their delicious nectars, this flower tempts unemployed flesh-eating beetles and maggot-bearing flies by smelling like a putrid rotting corpse.


After we recently moved to a new house, some "friends" presented us with a couple of exotic flower bulbs as a housewarming gift. When I saw the little picture on the bag that held the bulbs, I was excited to get these things into the ground. This was a really neat flower.


Well, today was the big day, the flower opened up for the first time. Indeed, the Dracunculus vulgaris is a handsome bloom, about 13 inches in length with a giant "triceritops horn" sticking out of it. Very striking blossom, but the thing is, it makes the backyard smell like a decomposing bison during a windless, sweltering heatwave.


I had to cut it down because were were having guests over for an outside dinner about 4 feet from where the flower was growing and the smell clashed with the wine, but there is another one in the yard that looks as though it should bloom in a week or so. If you live in Seattle and were recently dumped hard, swindled, or cheated on, and are still feeling bitter, I've got a flower that you might want to consider using as the centerpiece for a little bouquet for that someone special. I hate to see something like this go to waste. ipod ipod