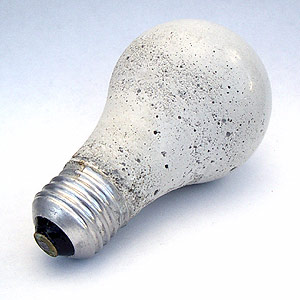 I don't know art, but I know what I like. Recently, I found myself taking a shine to lightbulbs. I don't remember exactly what started the whole lightbulb thing, but when it was all over, I was in posession of several handsome examples of different screw-base lightbulbs, a huge light bulb oil painting, and a dozen or so concrete lightbulb castings.
The concrete bulbs are particularly popular among visiters to my cubicle at the office. When people pick one of these things up off my desk, they invariably finger it for a second while doing a few eyebrow excercises before finally letting out a "Ok, how did do it?"
It's surprisingly simple, try making some yourself.
Take a very fine file, razor saw, or emery board and carefully saw aroud the lightbulb, right where the glass meets the threaded base. You want to score the glass all the way around. Then you will be able to snap the bulb right off at the base and extract the base complete with the long glass filament holder. Do several at a time, since some will turn out better than others.
Next mix up some some concrete, either pre-mix or just a 50/50 blend of sand and portland cement. Make it about the consistency of hummus. (everyone always says peanut butter, so I thought that I would say hummus.)
Use a funnel or paper cone to fill the bulbs with the concrete, then replace the glass stem and screw base. Let the concrete dry for a few weeks, then peel the glass away much like you are peeling a hard-boiled egg.
Now, sit back and be moved by the juxtaposition of the fragile and the resilient, a familiar warm form rendered in cold, heavy, stone.
Ray Alderman's bulb log.