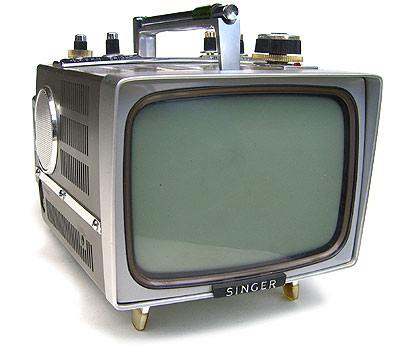 I'm not sure whether or not this tiny little Singer portable television set was marketed as a sewing machine accessory or not, but what is known is the fact that I cannot resist buying a cool metal-cabinet vintage TV set when offered to me for $2.
The couple who sold me the Singer out of the back of their rusty Ford Ranger at the Midway Swap Meet told me that the thing worked great when they tried it. I of course wasn't surprised when it was in fact DOA when I plugged it in later at home. Hey, for 2 bucks I practically stole this Jetsonian masterpiece, even it only serves as a shelf ornament, which is exactly what it has been for the last couple of years.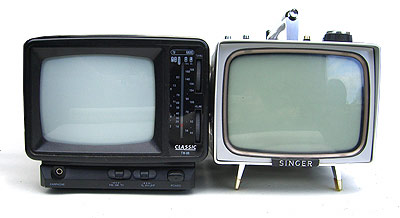 Enter the "Classic" brand, super-cheap 5-inch transistor television that I stumbled upon being offered for $5 at the Greenwood Fred Meyer get-this-crap-outta-here electronic bin sale.
Guts transplant
It became immediately clear that I needed buy the "Classic", and install the woking bits inside the Singer shell, so I snapped it up. The set seemed about the same size as the Singer, and in fact the 2 TV's have almost identical footprints, but despite this similarity, when I got the new TV home I realized that the ancient set has a screen that is full diagonal inch bigger than the modern one.
This mismatch kind of threw cold water on the transplant idea, and i jet let the TV's sit around for a few years.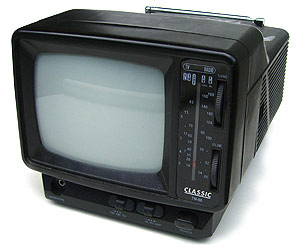 Pong
Well, the TV's have bubbled back up to the top of the project pile, and the latest idea is to build a little mini desktop pong console using the new tube in the old case. Maybe Asteroids.
Update:
Jeff Rueckgauer remembers this –
My parents bought me that set for my birthday in 1964 or 1965. It was an AC/DC model. The AC power brick on the back is removable (as you undoubtedly know). There was a rechargeable battery pack that mounted flush on the back (extending the cabinet), and you'd put the AC brick on it to recharge. There also was a DC brick to run off a car or boat cigarette lighter.

The set itself was deceptively heavy, like 10 pounds. The AC brick was quite heavy by today's standards (about 5 lbs). The battery pack weighed a good 10-15 pounds, IIRC. But, for an all-transistor set you could take almost anywhere, it was awesome in my 12-year old mind.

I can still remember the warm electronics smell the set gave off when it was running, especially on AC…the AC adapter got mighty warm after a while…at least as hot as some of the tube sets used to get. I learned quickly to only use the handle to move the set until it had been turned off at least 20 minutes.

BTW, I think the set cost $499 and batteries were another $100-$150 each.

Regards,

Jeff Rueckgauer

Washington, DC