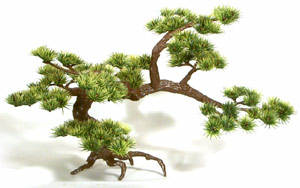 Ill admit it, I'm an aquarist. I am also a tarantula fancier, so I regularly find myself at the pet store replenishing my supply of crickets, or just scouting out the Lake Malawi cichlids for something unusual.
Several months ago in the plastic plant and ornament section I noticed this bonsai tank ornament by Aquatic Gardens and was compelled to buy 2 of them. I wasnt really sure what I was going to do with them, but I had to have one, and at $3.99 each, why not get 2? I certainly wasn't going to use them in my aquarium, I mean a pine tree growing in an fish habitat? I don't really see it. I can understand a castle, or Spongebob or Pluto in a diving helmet or something that is obviously fantastic, but not an evergreen tree.
I was more interested in the tree for terrestrial purposes. Assembling the tree was a snap and within minutes I had a perfectly formed dwarf pinus mugho planted in the root-over-rock form, minus the rock. If you've ever actually tried to cultivate an evergreen bonsai, you more than likely met with frustration and ultimate failure. Those things are tough to keep alive. You have to water them about every 15 minutes or they dry out, and if you do manage to keep one alive, you have to wait 45 years while you coax it into a respectable shape and size.
Everybody loves a bonsai, I think that it is in part, becuase of their illusory nature. And there certainly is no denying the harmonious form and balance of the 15 inch plastic bonsai. People just like things that are suggestive of Zen. Even if you aren't really sure what Zen means, you like it.