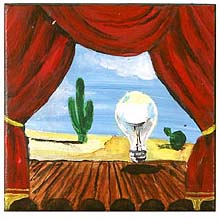 Seattle artist and finkbuilt friend Ken Barrett has recently been working on a neat series of small scale paintings. Ken likes the idea of giving away art, and has decided to bestow this little gem of a painting upon the finkbuilt readership, thereby keeping the fine art giveaway alive.
The painting is done in acrylic on a block of MDF 3.5 x 3.5 inches square, and the edges are painted black giving it a nice "gallery wrapped" look. This little beauty is just waiting to breathe a breath of fresh air into any intimate space that you might have in your quarters. Thanks Ken!
Rules
In order to become the keeper of this painting, all you have to do is estimate the number of discreet objects contained within this standard 6 oz. supermarket shrimp cocktail glass: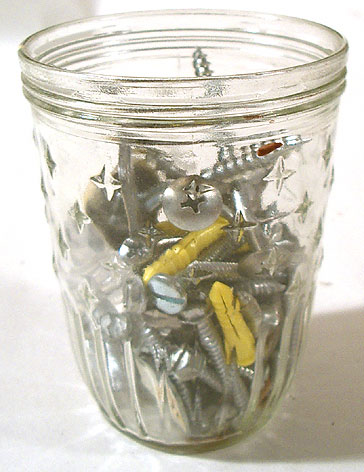 Joined but disntinct objects such as nuts connected to bolts will be counted as seperate items. Wood chips, dirt, and miniscule bits of shop debris will not be included in the final count.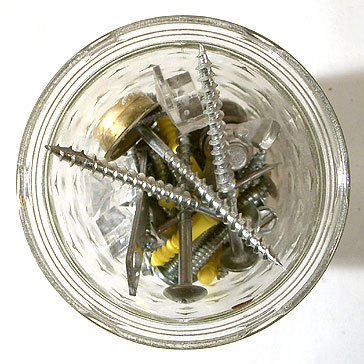 Whoever comes up with the closest estimate will find themselves one Ken Barrett painting richer. Comments will be closed to entrants on July 10th.
Sorry a month is too long. Let't make it July 1st.
Good Luck.