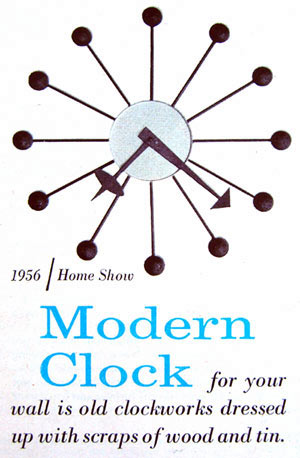 A tin can , some minor doodads and an old clockworks can be made into one of those swank, wall clocks that sell for up to $30. Even if you buy a new clock mechanism, the job should cost you only a few dollars.
Most clockworks fit nicely inside a one-pound coffee can. Drill a 1/4" hole in the bottom for the shaft and mount the mofor inside with small stove bolts. If you use a spring-wind clock, no power cord will show.
Twelve arms, tipped with 1" cork balls, mark the hour positions. The balls are sold at hobby and fishing-tackle shops; they often come with 1/8" holes in them. If not drill the balls to fit on the 1/8" dowels that are used as arms.
Cut the hands from tin or balsa wood. The hands are 4 3/4″ and 6″ long. emove the old hands and solder or cement the new ones on top, then replace. We painted hands and arms black, housing gold.
– Ron Anderson, Minneapolis. From Popular Science, April 1956