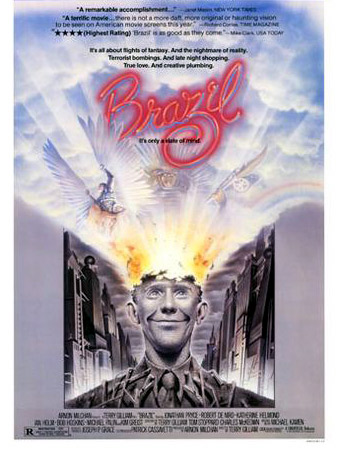 It just occured to me that it has been 20 years since Brazil was released, and that by now, there are probably lots of folks out there who may have somehow overlooked this masterpiece.
You see, after 20 years Brazil is still my favorite movie.
For those who may have missed it, Brazil is Terry Gilliam's Orwellian, dystopic sci-fi flick, set in some retro-futuristic hyper-bureaucratic surveillance-state, where the threat of "terrorists" is used as an pretext for the government's "Ministry of Information" to detain and torture it's own citizens.
Kind of bleak, sure, but dont worry, there are some heroes in there. The film is masterfully styled and the set design and props alone are worth the rental. The setting has been described as "the entire last century crammed into a moment's time". Watch it.
I'm not sure why I thought of this film, hmm… perhaps it was something in the news recently. Anyway, I would like to move that we declare this national International "Watch Brazil" week. If you haven't seen it before, well, you need to. Go rent it. Netflix it. If you have seen it, then you will acknowlege that it does indeed require multiple viewings to fully digest, and you will welcome the chance to see it again. So, go ahead, call some friends over for a Brazil watching party soon. You'll be glad you did.