Every axe needs a little touch of glam, and I see no reason why my ukulele should be any different, so I thought that a little pearl was in order.
In the spirit of DIY, I had hoped to start with an actual oyster shell, eat the oyster, and work the shell lining down into a usable sheet of mother of pearl. So, during my lunch hour, I walked over to the Pike Place Market in search of an oyster. It turns out that you need a really big oyster if you hope to harvest a usable slab of mother of pearl, and people just don't want to buy those enormous monsters. Consequently, the fish market only stocks little dainty oyster specimens. So It was back to Dusty Strings where I purchased a pearl shell blank for the headstock decoration, and three pearl marker dots for the fretboard.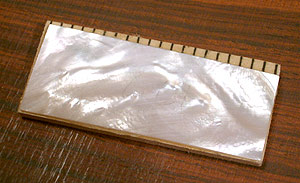 Fret marker dots
The fret markers went in without a hitch, except for a bit of chip-out from the drill bit. I filled in the hole by putting in a drop of super-glue and packing in some dust from the same cocobolo wood from which the fingerboard was made. This works really well on darker woods, and once sanded flush, you will hardly be able to detect the repair.
Headstock inlay
I started out by cutting off the decorative point from the headstock, giving it a simpler squared-off style. For the inlay I wanted to do a sort of Astro-style, double boomerang design but it just didn't look right when I mocked it up on the headstock, so I dew out this whimsically asymetrical ( in other words, sloppy) KAPOW!! star instead.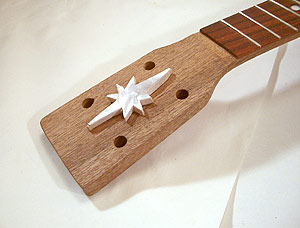 Cutting the pearl
Mother of pearl is really hard, brittle, and thin. In order to be able to cut out the KAPOW!! shape without without breaking it, I first glued shell blank to a piece of thin wood with Elmer's wood glue. The wood substrate was just the thing, and I was able to cut out the shape using a razor saw without breaking the piece.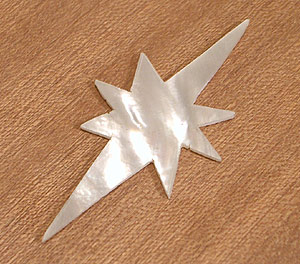 After soaking in water overnight, the pearl separated easily from the wood backing.
Digging the hole
I used an exacto knife to excavate an appropriately shaped depression the mahogany headstock. Let me tell you, they don't call it hardwood for nothing, this took some patience. I probably should have sprung for that Dremel router base. I installed the star using some epoxy, and filled in the gaps using the glue-and-sawdust technique again, but this time it was a bit more noticable than it was on the dark-colored rosewood fingerboard.
Next time: Nut, bridge and finish.