Here it is. No. 2 in my BelAir series of retro-feel homebuilt AV equipment (see No.1). I used a surplus copy machine lens to make this opaque projector for use as a drawing aid. (See this post for background info and plans) .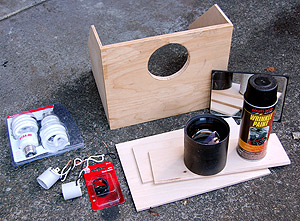 The projector is essentially a wooden box with with a lens, internal lighting to illuminate reflective copy, and a mirror to flip and invert the image so that it is projected right-reading on the screen. These projectors are great tools for enlarging images when making paintings, posters or other such artwork.
Materials
I was able to use quite a bit of scrap and on-hand materials for this project, which is always satisfying. I made most of the box out of some nice 1/4 inch plywood that I had lying around. The front panel is 1/2 shop grade plywood, also scrap. The mirror has been kicking around the shop for years, as have the ceramic light sockets. I made the lens holder from an empty cocktail peanut can, epoxied into a hole cut in the front panel.
I purchased the two 23 watt fluorescent bulbs, which are supposed to have the same light output as 100 watt incandescents. I also had to purchase the chrome toggle switch, the wrinkle paint, and the stylistic embellishments.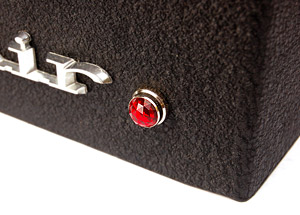 Finish
I painted the cabinet with black wrinkle paint from Plasticote before installing the chrome (1966) BelAir script and ruby red Fender amp indicator jewel.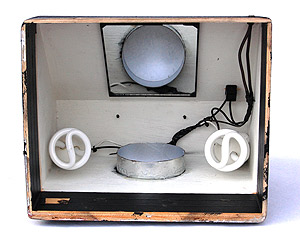 Focus is achieved by simply twisting and pulling the lens in and out.
I still need to paint the bottom edge of the cabinet and make some reflectors for the lamps.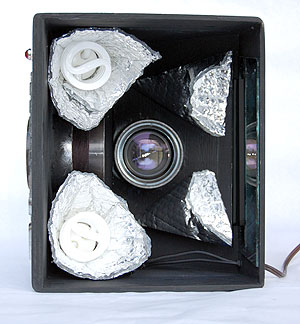 I got rid of the dimestore mirror and installed a trapazoidal front-surface mirror. If I were just building an opaque projector I wouldn't worry about the ghosting that you see with a rear surface mirror, but since I have video projection ambitions for this project, I went ahead and upgraded the mirror.
To get a nice snug fit inside the peanut can lens holder, I wrapped the lens with several turns of black yarn. This makes for a nice snug fit, and keeps any light from leaking through.
Results
I'm pretty happy with it. I didn't spend too much building it – less than I would have spent on a low-end commercial unit, which can typically only handle copy under 6 inches in size. The projector works great. The copier lens can take in really big copy. The BelAir handles 9 1/2 x 12 inch originals, looks cool, and was fun to make.
Future
If I can find a cheap portable DVD player with an LCD monitor, I want to make this into a movie projector.
UPDATE:
Following in the footsteps of Mr. Jalopy, I have spent lots of time on the immensely rich Lumenlab forum, and I am gathering parts to build the video projection base unit.