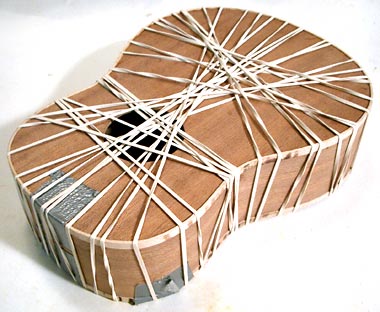 Blur, Green Day, Elvis Costello, Belle & Sebastion, The Clash, Madonna, They Might Be Giants. That was just on the first page that I clicked on after doing a google search for ukulele tablature. I can't wait to see what I find when I actually start looking. I am getting anxious to go all Don Ho with this uke.
But first I guess that I'd best finish building the instrument. This week I made and installed some maple edge binding to protect and beautify the ukulele. The binding adds a nice custom touch to the body while keeping it from getting too dinged up while I'm out at clam-bakes doing the twist.
Making the binding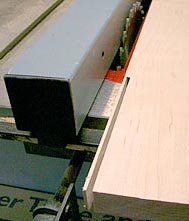 I was going to use one of the plastic binding materials available from places like Stewart-Macdonald, but I didn't feel like waiting so I decided to make the binding out of some material that I had on hand, Eastern rock maple.
I first ripped a thin strip of maple on the table saw, then cut it down to the final width using a band saw. I was fortunate enough to catch an episode of Hand Made Music on the DIY network, in which a fella demonstrated how to bend guitar sides by soaking then in water and pressing them against a hot iron pipe. I applied the same principals to shaping my edge binding, using a soldering iron clamped into a vice as my heat source.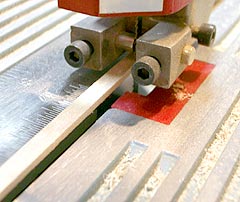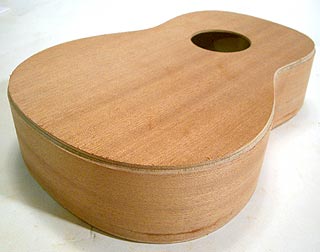 Installation
Using a router, I cut a notch to accept the binding all around the top and bottom edges of the body. After dry-fitting the binding to make sure that my bends were adequate, I applied some tite-bond glue all around the inside of the edge band and clamped it up using a bunch of rubber bands.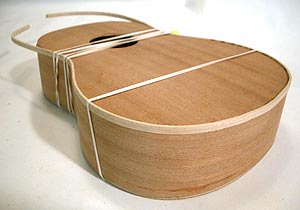 After the glue had dried, I sanded the binding
flush with the sides, top, and back.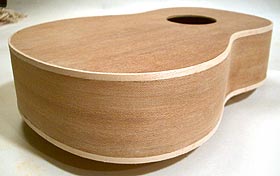 Next up: Gluing on the neck and fretboard.