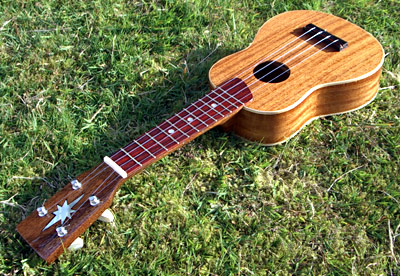 Finkbuilt soprano ukulele model A number 001 has rolled of the line.
Finish
I began the last phase of the uke project by masking the fretboard and brushing on a coat of satin polyurethane. I quickly realized that I had forgotten to locate and mask off the the bridge saddle position prior to applying the finish. As soon as the initial coat of finish had dried, I scraped it away from the spot where the saddle would be glued to the body. Four more coats of gloss polyurethane completed the finish.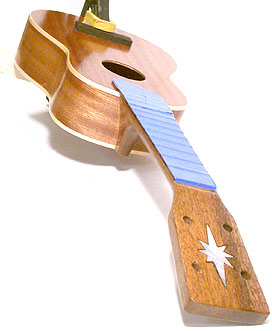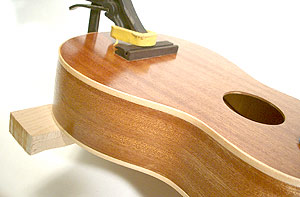 Bridge and Nut
Next, I glued and clamped the bridge saddle into position and let that dry overnight. Using the grizzly bridge as a pattern, I made a new bridge out cocobolo to replace the one that came with the kit, which was made from some splintery, semi-hard mystery wood.
I glued the nut into place at the top of the fingerboard, and installed the bridge into the saddle. Next came the economy friction tuners, which dropped right in without any complaints. A single screw holds the knob to the peg and serves as an adjuster for the tuner friction.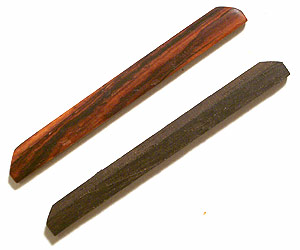 Setting the action
With all of the parts in place, I strung up the uke and checked the action, which was sky high, so I used a fine saw to deepen the slots in the nut so that the strings just barely hovered over the first fret. I finished bringing the action down to Earth by sanding the bridge until the strings were about 1/8th of an inch above the 12th fret.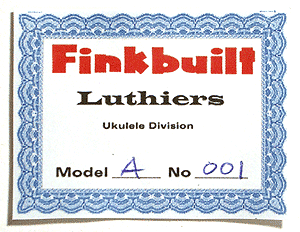 Label
Just to make everything look official, I whipped up a little manufacturer's label to go inside the body, so that when you peer into the sound hole, you get the feeling that the instrument was made by somebody Legit.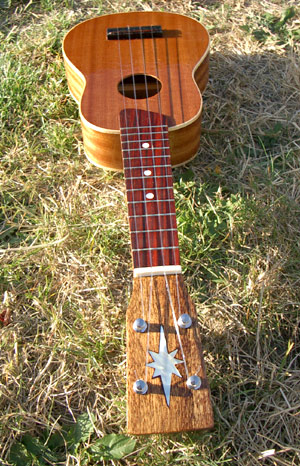 So there you have it. The uke was a fun project and I got to try my hand at a new branch of tinkering and hopefully I've created an heirloom trinket. Now I just need to figure out how to play it. I think I'll start with David Bowie's Queen Bitch.