Part 2 – Making the Chimp Tunic. »

Image Courtesy of Apemania.com.
I can 't think of a better way to ring in the new year than to start working on my 2008 Halloween costume.
It's been just over a year since I got my sewing machine. When I first got it, I had ambitions of cranking out a whole closet full of custom shirts, perfectly fitted to me, styled in vintage fabrics and cut just the way I like 'em. Well, as it would happen, having a better shirt just wasn't enough to motivate me to take on the challenge of creating a garment from scratch. I did manage to do some alterations here and there, but it wasn't until Halloween rolled around that I found the real killer app for sewing – Costumes!
Last year I sewed parts of the whole family's costumes, which was really fun and satisfying. This year, I am going to take the opportunity to sew up a whole POTA chimp suit from the ground up and hopefully gain some new tailoring skills in the process. Yes indeed, the prospect of having my own chimp suit turned out to be a sufficiently powerful incentive to get me sewing in earnest.
I looked into getting started in latex mask making but decided to leave that for another time, and have already contracted with movie makeup artist and avid POTA collector Matt Sotis to make my chimp mask for me. Check out the amazing work that Matt did on this orangutan.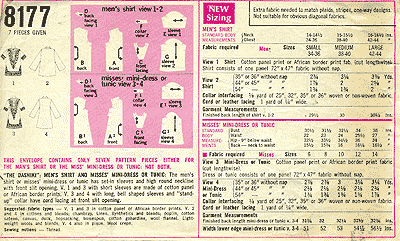 Finding a Pattern
Since I am just starting to sew, I really wanted to work from a pattern. Unfortunately, you can't just purchase a Planet Of The Apes Adult Male Chimp Suit pattern at your local fabric store, so I started searching for "Tunic Shirt" patterns on ebay. I placed a bid on Simplicity 8177 which is a pattern for a sort of quasi-African grooovy shirt from the late 60′s which appeared to have pretty chimp-like proportions. The pattern was published in 1969, the year after the POTA movie came out. I was outbid on the auction, but while brooding over my loss, I noticed that the image of the pattern envelope had little icons representing the pieces that were included in the pattern.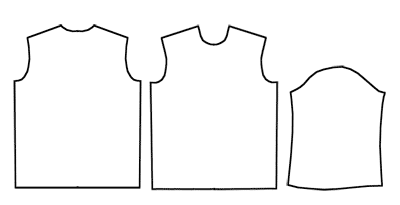 The Blow-Up
Wondering if this preview could serve as a pattern, I blew up the image in Photoshop and traced outlines of the front and rear panels and the sleeve. I then printed this mini-pattern out on a sheet of 8.5 x 11 paper, cut out the pieces and assembled them with tape. To my pleasure, the result did look sort of like a possible foundation for a chimp tunic.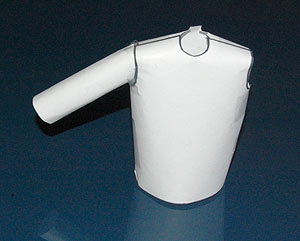 I then put my opaque projector to it's first practical test, using it to enlarge the pattern up to full scale. To determine the right size, I measured the width of one of my shirts and added a few inches for seam allowances and fitting.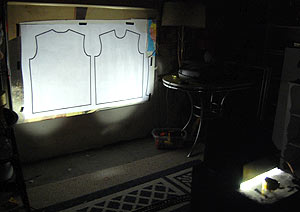 After tracing the pattern onto a large sheet of paper and cutting the pieces out, I folded each panel in half bilaterally and trimmed them to restore their symmetry, which had been lost during this convoluted enlarging process.

Part 2 – Making the Chimp Tunic.»