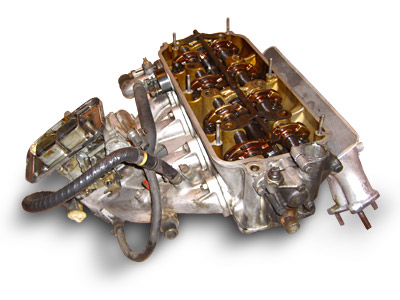 The BMW 2002 is the quintessential tinkerer's car. These cars were pretty advanced for their day, but they are simple, spartan machines by todays standards. When you open the hood, you see an engine, not a sea of black plastic, cables and hoses. Almost everything in there is clearly identifiable to the novice mechanic, and feels quite "owner-servicable".
So, this particular car has, over the eight years that I have owned it, invited me to learn quite a bit about shade-tree mechanix. I started out changing my oil, then advanced to installing a brake master cylinder, shoes, calipers, water pump, alternator, radiator, exhaust manifold, mffler, differential, axles, CV joints, distributor, Pertronix ignition, and adjusting my own valves.
Today, I made the boldest, most invasive dismantling that I have yet attempted. I pulled the cylinder head off in hopes of replacing a blown head-gasket and putting an end to the big puffy white plumes of steam that my car would spew out on cold startup, and dissapearing coolant, that the engine was drinking.
Unfortunately for me, when I got the head off, the gasket looked fine. this of course told me that the head casting itself was likely cracked, which in fact it was.
Component failure, an opportunity to upgrade.
So, since i have it all appart, and I have to get a new head built anyway, I might as well just take care of a few other details while all the parts are accessible. What the hell, might as well go for a 284 292 degree cam, bigger carb (38/38 downdraft), higher compression pistons, lightened flywheel. That ought to do it.
But I'm out of my leaugue now, so I am going to tow the car over to the shop a mechanic, who is going to let me work with him to build my new "stage 2″ performance engine. I've been looking forward to the day when I "had" to rebuild my engine for a long time and I'm excited.
Breathing easy
There are some things I can do at home in preparation for the shop work. The first thing that I will do is to "hog out" the intake manifold to allow for greater fuel/air flow in preparation for my new bigger carb and new fuel-sucking cam profile.
The manifold on the right is a stock 2 hole manifold. The one on the left has been opened up to accomodate a larger carburetor.
To be continued…