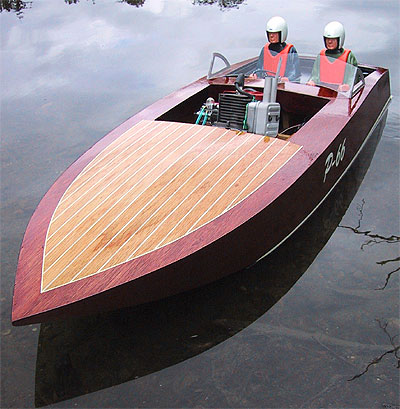 I've always lusted after the classic mahogany runabouts of the 1940′s and 50′s. At one point many years ago, I had a set of plans to build a 1/4 scale model of a 1951 Century Sea Maid ( a really stylish two-toned mahogany number) powered by a chainsaw motor. For one reason or another, I never built that model.
One day I stumbled upon a super-cheap Homelite 25cc line trimmer, and figured that it must be time to dig out those plans and whip up a boat, but the plans were nowhere to be found, apparently having fallen victim to several appartment and house moves. I contacted the magazine that had published the original article and details about ordering the plans, but they were not able to help me track down another set.
There was however a set of plans available to build a 1/4 scale "crackerbox" racing runabout. It wasn't the Century Sea Maid, but I fugured I could pretty it up a bit by improvising a few details. I built the hull from 1/8th inch mahogany plywood with a stain and polyeurethane finish rather than the smooth harwood plywood/paint treatment that was suggested by the designer (and crackerbox tradition). Some pinstriping tape served nicely to approximate the deck caulking, and I ditched the low wood "fairing" and came up with a propper windshield design.
There are some cheap line trimmers out there just waiting to become boats. I recommend looking for a model with the 25cc Homelite engine, as there are lots of aftermarket hop-ups available for that motor. The motor in my boat is stock except for the addition of a canister muffler and larger carburetor, which is an essential upgrade if you want to go fast enough to throw a nice roostertail.
Oh, just so that you can envision the scene properly, yes I do wear a blue double-breasted blazer and white yachting cap whenever I am at the lake running the boat.