My testosterone levels have reached alarming highs over the past year, what with all this building of automotive management computers and fuel-injection systems, motor rebuilding, horsepower extraction exercises, and various other grease-monkeying that has been absorbing all of my liesure time.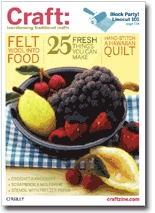 Thankfully, relief came yesterday in the form of issue no. 2 of the latest O'Reilly DIY mag, Craft:. In case you missed the first issue, Craft is the sister to Make magazine and follows the same basic format, but as the name implies, focuses on projects that are a little more craft oriented. You know what I'm talking about, fibres, paper, stitching, environmental accoutrements, home, garden, knitting, art, aesthetic engineering, printmaking. Crafts.
A cursory glance through Craft revealed a look at some really cool, post-victorian looking faux taxedermic sculptures by L.A. artist Liz McGrath, and a reintroduction to Daguerrotypes by Jonathan Danforth among many others. I can't wait to read it.
In an uncanny coincidence, the vintage 1947 men's sports shirt sewing pattern that I had bought on eBay a few weeks prior arrived in the same batch of mail.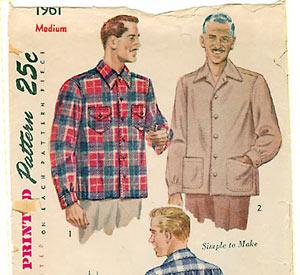 You see, I don't normally make New Year's resolutions, but for some reason this year when asked about my resolution, I proclaimed that before 2008 I was going to make a shirt. So I hit ebay to find a nice pattern for a shirt and scored this 1947 shirt pattern (Simplicity #1961).
Sewing Time
Here you have the stout, 1974 Sweedish metal-bodied Husqvrana Viking sewing machine that I got for Christmas this year. This baby is all analog for certain, and features a neat interchangeable cam system for doing all sorts of fancy stitches. I like this machine much more than one of those new-fangled plastic jobs that you get at Costco for $200.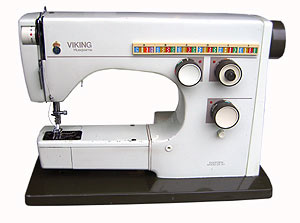 Opening up the instructions, I threaded up the machine and did a couple of test stitches, waiting for everything to end up in a big knotted cluster. Amazingly, it worked great, chewing with smooth authority through a couple layers of corduroy wouthout any complaints. Much better than than the thrift-store boat anchor that I bought years ago that never worked, and caused me to give up the whole idea of becoming my own tailor.
Ok, I think I'm ready to start the shirt.