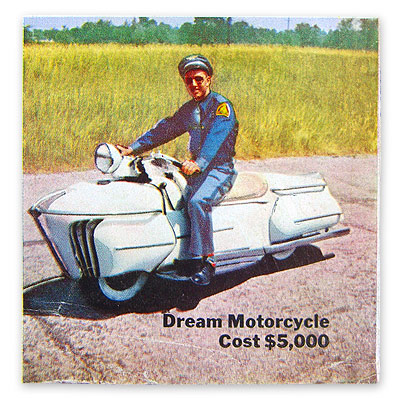 Harvested from Popular Science – March, 1953.

One night in March, 1950, O. Ray Courtney worked until two a.m. and drove home discouraged. He was trying to design a better motorcycle. He wanted one with the seat forward, with better cooling, better springing and a more beautiful body. Discarded sketches littered the floor of his shop.
That night in a dream he saw a steamlined beauty skim across a flowered field. Too excited to report for work the next day, he hastily put his dream on paper – and he is riding that dream cycle now through the streets of Pontiac, Mich.
Vespa or Lambretta? That's been the conversation in my head lately, as I consider taking on an old scooter project. But none of that matters now that I have seen the 1950 Courtney Enterprise. I would have a tough time settling for anything less than a custom mega-scoot!


FRAME is 1 1/8 inch chrome-steel tubing. Handlebars, 10 1/2 inches forward on an extenstion tube, are mounted on a second head. They connect through drag links to the fork.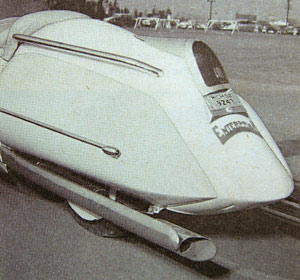 STREAMLINING continues to tail. Machine is 26 inches wide. Bulges flanking sides of rear wheel are metal-covered saddlebags.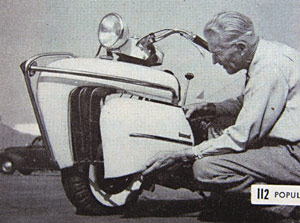 TWO CAN RIDE comfortably on the big seat. Long footboards add to the comfort, and prevent splashing. The Enterprise is 112 inches long and weighs 580 pounds.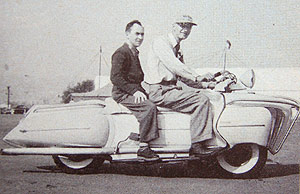 Everybody run out and check you grandpa's barn right now! This bike must still exist. It seems unimaginable that something like this would ever get junked.