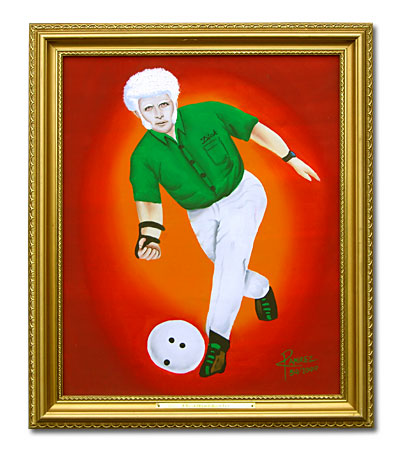 The legend began on a crisp October night in 1974, at a small 12-lane alley just outside of Roundlake, Illinois. League night was winding down and, as usual, some of the guys decided to stick around and roll a few games for money. About midway through the first game, the doors swung wide open and a pale figure with a bowling bag stood in the doorway. He walked in slowly, pointed at lanes nine and ten, then sat down to change his shoes. Read the entire legend of Dick
I've had my eye on Pietro Ramirez's The Albino Bowler for several years now, and today, this glorious day, it became part of my permanent collection.
I like to duck into the Archie McPhee's Store in Ballard whenever I get a chance. It's impossible to go in there and not feel good. The store offers a bountiful harvest of kitsch, novelty and surplus items found nowhere else. They are also the sole distributors of the paintings of Pietro Ramirez.
A couple of weeks ago I was in the annex, where they keep a bunch of oversized and overstock items, and I noticed a "Last One!" sign below the display model of The Albino Bowler painting! I froze for a second, then got the hell out of there before I did something silly. I was supposed to be going to Dunn Lumber next door to spend $300 on cedar to build a fence, and dropping a $100 on a Ramirez painting would put me in a bit of a Jack and the Beanstock position. I tried to put it out of my mind, but owning a copy of The Albino Bowler was on my list of things to do, and with only one copy left, the plan was in serious joepardy.
Today, I somehow clicked over to the Archie McPhee's website, and noticed that they were now selling a blue background/purple shirt version of The Albino Bowler! Needless to say, I was pretty disappointed. I figured that I had missed my chance to own The Albino Bowler in its true and proper color scheme, green shirt with brilliant firey orange and red suburst background. I had no desire to own the new blue and purple version.
Well, I decided to stop by after work just to see if maybe the display model of the classic color scheme Albino Bowler had not been sold yet, and sure enough, there it was! I happily slapped down my C-note and walked out of there the grateful owner of The Albino Bowler #50/1000