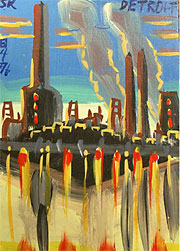 Admittedly, the ground rules of the Finkbuilt fine art giveaway were vague and ill-defined:
Using the comments in a blog post, appear as though you "seem to want the painting the most". I hadn't anticipated so much interest, and probably should have been more creative.
Nonetheless, there were were some really compelling posts employing a varietey of strategies. There were accounts of decrepit, artless living and working environments, long lost artist parents and grandparents, a good deal of student poverty, and some really nicely composed descriptions of ones' magnitude of desire for the painting. There was reverse psychology, poetry, Shakespere, fantasy, Dada, sex and frustration.
Lou — cuddled a warm bottle of pee in his cold aluminum foil clad truck canopy home.
chris bellerose — couldn't wait for the contest to end, so he painted his own version.
matt — and I played a show together the week I got the painting.
KaiBeezy — wrote some really nice stuff.
Heidi — had "huge tits" (self described).
Mark Breakspear — denounced his candidacy.
In the end Tom Raywood used a combination of sheer tenacity, poetry, painting analysis and a strict interpretation of the contest mandate to convince me that he wanted it the most. Due to overwhelming response, I have decided to end the contest at the "end of the month" rather than "after one month's time"
Enjoy the painting Tom.
Steve