Here it is. Weeks of reckless ebay bidding has pretty much brought me an entire electronic fuel injection and spark control sytem. Now all I have to do is stitch it all together. In addition to the stuff pictured above I also have some steel fuel line, and miscelaneous wiring and connectors that I will use to build the engine wiring harness.
Hand carved auto parts
The 325 throttle body that I am using, unfortunately doesn't share a bolt pattern with the 318i intake manifold, so I thought that I'd make this adapter plate:
Easier said than done.
UPDATE
Coop once told me that the parts of which to be most proud are the ones that you make yourself.
I couldn't agree more, but when Tom made this CNC machined throttle body adapter based on my prototype, and sent it to me gratis, I just had to swallow my pride and bolt that sucker up. After all, it does show a little bit, and well, Geez, how could I not use it.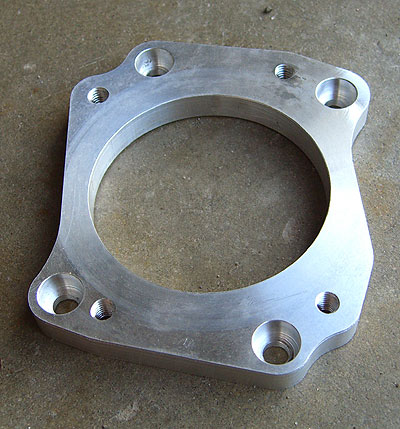 3 hours and a jigsaw
There was quite a bit of bolt pattern "overlap" between the 2 throttles, so to avoid a collision of fasteners, I had to rotate the new throttle body by about 15 degrees. This resulted in a very strange looking adapter plate. Add to that, the fact that I have no skills as a machinist, and no mill or lathe, and you end up with one nasty looking hand-carved hobo piece. Hey, it works.
Some pro parts
Well, making that adapter nearly broke my spirit. To recover, I decided to treat myself to a couple of professionally machined parts. Tom Rafalski is a helpfull fella' who recently started selling parts specifically for the 2002 tinkerer through his website 02Again.com. Tom makes a slick little distrubutor plug that will fill the hole left behind once I remove the distributor and install the Ford EDIS (Electronic Distributorless Ignition System). My plan is to do ignition first, then fuel.
I also hit up 02Again for one of Tom's fuel pump block-off plates. I will need this when I convert the fuel sytem to a high pressure sytem as is required by EFI. I also see one of these in my future.
The 325is throttle body came with a 2-position throttle switch that would only indicate Wide-open throttle, or fully-closed throttle. Megasquirt does its acceleration enrichment calculations based on how fast you are depressing the pedal, so I needed to use a variable resistor (potentiometer) type TPS. I made this simple adapter plate to fit the brown mystery TPS to the throttle body before bolting it up to the manifold.
Next up: Installing the Megasquirt ECU, relay board, trigger wheel, and EDIS ignition.