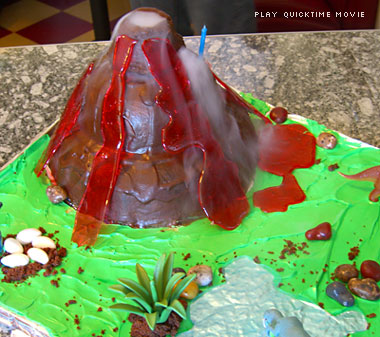 Whether you're having a groundbreaking celebration for the construction of your new subterranean evil lair, or throwing a 5 year-old a birthday party, an erupting volcano cake is always the perfect pastry choice.
The magic in this cake comes from 2 special effects:
The dry ice in the magma chamber, and the hard candy lava streaming down the sides of the volcano.
We constructed our volcano using 3 seperate cake sections:
Bundt cake base
Dome cake middle (baked in medium bowl)
Inverted cupcake peak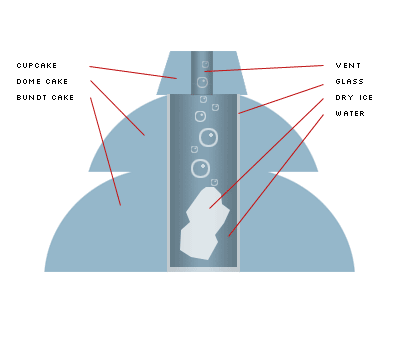 We used a small juice glass to first cut out the center of the middle layer before stacking it on top of the bundt cake base. Next, insert the glass into the cavity. This is your magma chamber.
Cut a vent through the center of the cupcake peak section. Frost both the main cake and the cupcake peak, but dont put the top on just yet.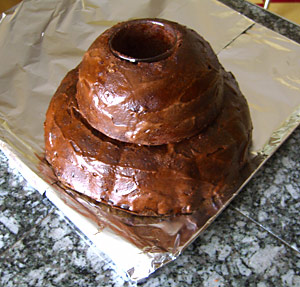 To make the candy lava you'll need:
1 cup sugar
1/2 cup Karo syrup
1/4 cup water
Red food coloring
Combine these ingredients and bring to a boil in a saucepan. Heat to 300 deg F. Remove from heat. Pour candy lava into the desired shapes onto a foil-lined baking sheet. Allow to cool.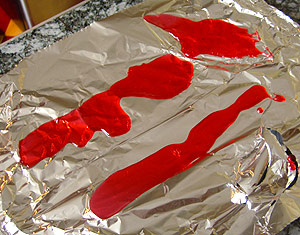 Just before you are ready to serve the cake, drop a chunk of dry-ice into the glass, and pour in some cold warm water. Put the top piece onto the volcano and arrange the candy lava on the sides.
If you want your cake to actually bubble over with oozing lava, then add sweetened, colored egg white to the dry ice in the magma chamber rather than water. We didn't think that sounded very apetizing, but it sure would look cool. Here is the recipe for the oozing goo:
1 egg white
2tbsp sugar
food coloring
Dropping that into your volcano will result in a nice eruption that should last for a few minitues.
Finally, bask in your guest's delight.