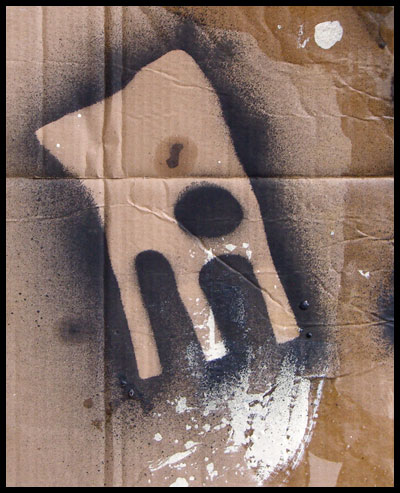 I moved my car out of the garage this morning to make some space to prep a wallpaper installation that I was doing. When I walked back into the garage, I noticed this abstract painting sitting right below where the leaking differential of my car used to be.
I hadn't noticed it before, even though I had painted it just 12 hours earlier while turning a red, white, and blue bowling wrist brace into a black one in the course of assembling my Dick the Albino Bowler costume (thanks Ken), in preparation for attending Scott, Becky and Felix's phenomenal fancy dress party.
Let me just say, this was far and away the best family-friendly halloween party that I have ever been to. Scott and Becky know how to entertain. Costumes were manditory, and there were some incredible ones there. Frylock and Pumpkin guts stand out in my mind. There was the best haunted carport you could imagine, complete with human barbecue and living portrait. There was a forest of booze bottles and mixers available to concoct whatever you might want to drink. There was even a performance by a Polynesian fire-dancer, swinging balls-o-fire on the end of strings. There was pinball, pumpkins, and spread of food that kept everyone going all night, and to top it all off, The Mercury Four showed up, opening their instrumental set with "Warewolf on Wheels". All of this set in an architect-designed, mid-century modern house.
Like I said, Scott and Becky know how to throw a party.
Oh, yeah. Free modern art. I will mail this piece free of charge to the person gives the best critique of the painting, and seems to sincerely want to own it. If nobody meets those criteria, then I will put it back underneath my car.