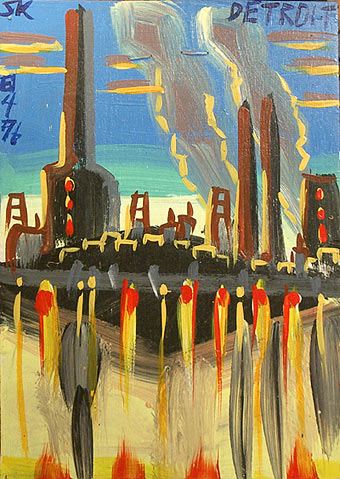 Steve Keene is a Brooklyn artist who paints assembly line style, turning out walls of multiples of each composition. After earning a Fine Arts degree from Yale, Keene soon developed the SK Art model, bringing original works to the masses by painting in Bulk.
In the beginning, Steve would sell his paintings mostly at rock shows in the NY area. His friendship and admiration for musicians was central to the evolution of his whole approach to painting and distribution. His work can be seen on album covers for Silver Jews, Pavement, The Apples in Stereo, Soul Coughing and others. You can read more about Steve and his work on his website, or at NPR.
In 1996 I was playing drums in a band called Incredible Force of Junior. We were driving around the Northeast and Southeast playing shows. One of the shows on this tour took place in what is one of the coolest venues imaginable, the belly of a formerly sunken ship called the Frying Pan. The Frying Pan was a "Lightship" built in 1929. At some point, the ship fell into abandonment and sank, but it was later salvaged. The outside and upper half was cleaned up and painted, but the inside of the hull was left with its its rusty, barnacle encrusted, sunken-ship motif in tact. Down in the belly is where the bands played. It was amazing.
Up on deck there was an old homebuilt helicopter powered by a motorcycle engine, and a self-service SK art gallery where you could drop $3 into an oil drum and take any painting that you wanted. I took a copy of "Detroit".
That's how I got the painting.
I am now giving the painting away to the Finkbuilt reader who seems to want it the most. Using the comments for this post, just tell me why you want the painting. At the end of one month's time At the end of June, I will ship the painting to whoever seems to want it the most. Good Luck!
Update: I will ship the painting at no cost to the lucky winner if they happen to live in the contuguous 48 US states. International winners will recieve a $US 10.00 discount off the actual shipping cost.