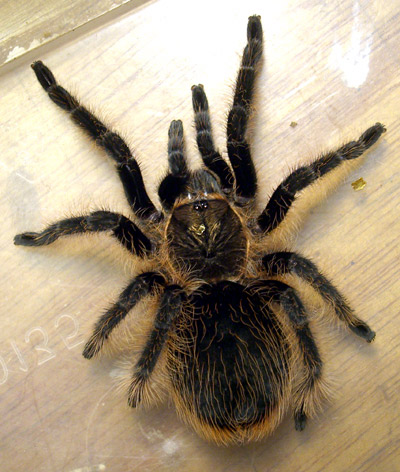 For far too long now, the pet preference discussion has revolved around a couple of mammal groups. Are you a cat person, or a dog person? Well, it turns out that there is actually a third major sphere of animal people out there.
Tarantula people.
For evidence, just read through some of the threads over on the Arachnoboards forum. There you will find all sorts of usefull information relating to all aspects of tarantula husbandry, from proper housing and feeding to courtship and breeding. This is a devoted and growing bunch of spider nuts dedicated expanding understanding about an ever-increasing number of captive-bred tarantula species, preventing them from extinction, and making them available to the arachnophiles of the world.
Tarantulas are the future
Yes, it won't be long now before everybody has a tarantula or two. I'm sure that it's already big in Japan, so if you want to stay ahead of the curve, there is no better time than now to get in on the action. Yep, you're going to need a tarantula soon.
Well as luck would have it, I am now accepting applications to adopt these 2 absolutely gorgeous unsexed, sub-adult tarantula specimens! That's right, these 2 adorable, docile, fuzzy giant spiders are looking for a new home.
The spider at the top of the page is a Brachypelma albopilosum, also known as the curly-haired tarantula.
The bottom one is a Brachypelma vagans, a truly docile and lovely bug. You may have noticed that this spider only has 7 legs. Yes, it's true. The leg was lost in a skin-shedding mishap, but rest-assured it the leg will regenerate, magically reappearing after the next molt.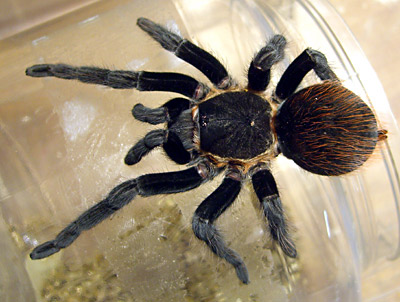 Adopt a tarantula today
If you would like to adopt one of these fuzzy friends, just complete the following checklist, then leave a comment to this post that describes your interest in tarantulas, and affirms your desire to adopt one:
Research tarantulas and their care thoroughly.
Don't be a creep who just wants to have a scary bug.
Be someone who is truly interested in these beautiful, interesting animals
That's it!
Successfull candidates will need to payPal me a $20 USPS Express delivery charge. I would prefer to send them to the Western United States only, to reduce the chances of loss during transit. Shipping may be delayed for cold weather.
After a few weeks or so, depending on interest level, I will close comments to new applicants and send out spiders.
So, who wants a tarantula?
Update: Both spiders have been spoken for. Thank you Boing Boing!