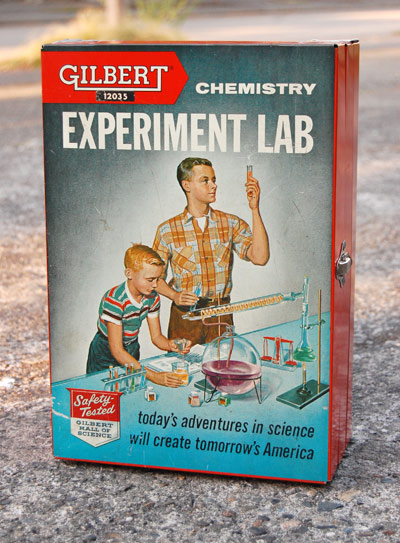 There was a time when I was an avid garage saler, addicted to the thrill of the hunt and anxious to harvest the bounty of better than new, once treasured goods that the weekend had to offer. Not so much in recent years. These days, I am pretty happy to live vicariously through Mr. Jalopy.
This weekend when the kids and I were walking to a local car show, we stumbled into an authentic, in-the-garage, cleaning out dad's estate, garage sale. You know, a set of baby moons, cases of NOS copper scrubber pads, wooden boxes full of greasy salvaged bolts, Jim Beam bottles, souvenir salt-n-pepper shakers from 50 vacations, film cameras, and tools, tools, tools. I only had $3 to blow and was about to spend an indeterminate amount of time at a car show, so I had to spend judiciously. I bought this Gilbert chemistry set and a pair of wire/round stock/bolt gauges.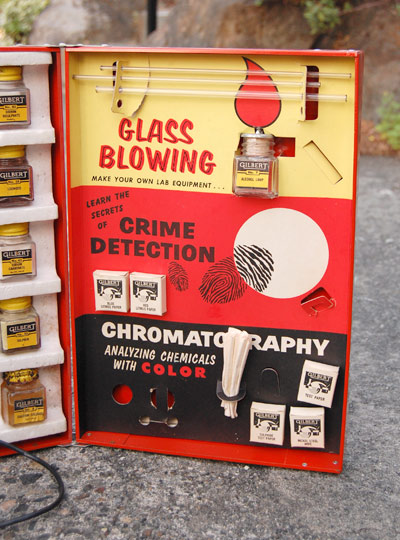 This set was made during final years of the American Age of Science, where "Today's adventures in science will create tomorrow's America", and chemistry sets actually contained chemicals.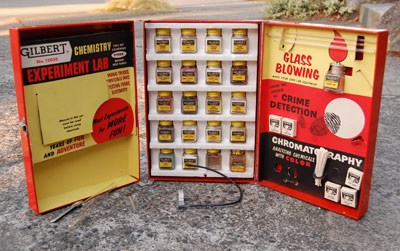 I bought the set for $2 just for the wonderfully illustrated metal tri-fold box, without even bothering to open it. A few blocks later, curiosity got the better of me and I had to stop on a park bench and crack the set open. The first thing that I saw was the unit on glass blowing. Not only did this chemistry set actually contain chemicals, but it taught you how to make your own borosilicate lab ware! How times have changed.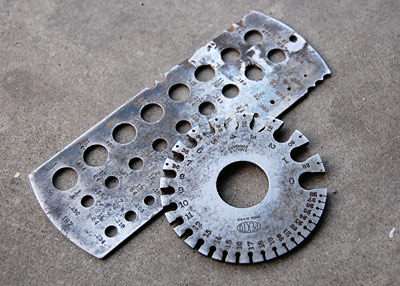 I didn't feel like lugging anything else around at the car show, but I still had a dollar to blow, so I picked up these two gauge tool things. They looked like they had been used and treasured for at least 80 years. One is from the L.S. ST(repair)ETT CO. ATHOL, MASS U.S.A. and had been broken, then repaired with what must have been a pretty laborious weld and grind job.