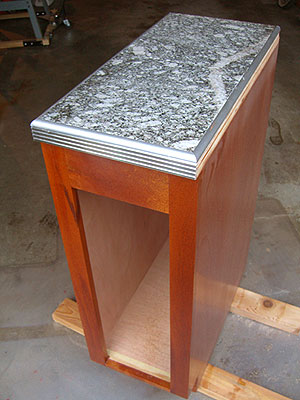 Poor man's granite that is.
A few people have expressed an interest in the countertop treatment that appeared in my Make your own ketchup post. Well as luck would have it, I had the opportunity this weekend to replicate the countertop installation and snap a few photos, as I installed the last of our kitchen cabinets.
Now, as we all know there is just one phrase, this side of "Rich Corinthian Leather" that screams opulent, organic permanance, and that is "Granite Countertops". But last time I checked, you could expect to spend about $10,000 to have a modest-sized kitchen outfitted with granite slab countertops.
Using granite floor tiles
A common way to get granite onto your coutertops without paying for a custom slab job, is to use 3/8″ thick, 12″ square granite flooring tiles, which you can install just like you would install any other tile:
Install a layer of cement tile substrate such as Wonderboard, or Hardi-backer.
Use a thinset mortar to set the tiles in place
Apply grout to fill the gaps between tiles.
Seal the stone/grout
But there are a few common mistakes to watch out for when using granite floor tiles on your countertop, Iv'e seen plenty of installations that looked a little, er, less than harmonious.
Some people might like the patchwork look, but if what you are looking for is a more seamless effect, there are a couple of things that you can do to help out:
Butt up the tiles to minimize the grout lines, and use a grout that is the same color as the tiles
Orient the grain. Even granite tiles that don't seem to have an apparent grain actually do, and if you line them all up in the same direction, it looks much better.
Choose a stone without strong veins or lines.
Note: in these photographs, you don't see the cement underlayment because, well, I didn't use any for this little cabinet because I didnt feel like going to the store. But you MUST use it.
Edging
For the counter top edge, I found this 1/4 round extruded aluminum, (or aluminium for you Brits) edging material that I believe is intended for transitioning tile floors to carpet floors. This edging has a lip on one side that extends below the tile. Install this stuff with nails or screws all around the edges of the counter for a durable and handsome edge.
You can cover the exposed countertop sides with any standard bullnose molding. 1-1/2 inch wide hardwood with a chamfored top edge is nice, but I chose this extruded aluminum trim of the type used in commercial dining tables. When we had our dining booth made, the manufacturer was happy to sell me some of the material to use on my countertops.
This edging has a T profile, and installed by first cutting a slot around the edge of the countertop with a slot-cutting router bit, then pressing the molding into place.
Finally, install the tile with any thinset mortar, then grout. Apply an aqueous sealer to keep the stone from absorbing stains and such, and BAM! you have a nice granite kitchen, and you just saved $9,500.