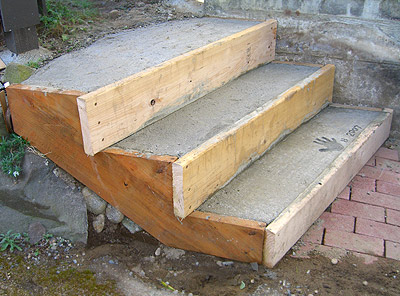 Got a spot that needs a set of concrete steps? Readymade wood stair stringers make great, easy forms for small concrete stair jobs. Intended for use as a structural part of wooden staicases, they also save you the brainwork of figuring out the proper rise and run when bulding forms for concrete steps.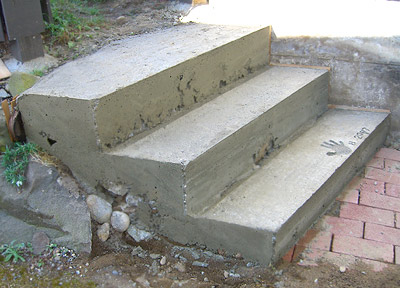 I'm sure the pros could give you better advice, but here's how I did mine:
Excavate
Dig out the dirt where you will be building the steps. If you have loose or sandy soil, remove all of the dirt from the spot where the stairs will go. If you have hard, or clay type soil, you may be leave some of it in place as a "core" to your steps. I had to remove all of mine.
Build The Form
Position the stringers where you want the sides of your steps to be. Make sure that they are level. Cut some face boards from 2×8 studs for the upper steps, and one out of 2×6 material for the bottom step. Use screws to attach the boards to the stringers – this things needs to be really strong. Stake the form into the ground so that it doesn't move when you pour the heavy concrete into it. (I used big rocks to keep my form from moving).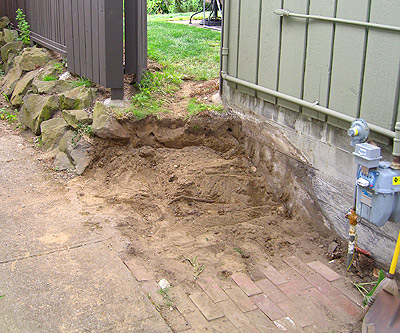 Fill With Rubble (not shown)
Stack rocks or concrete rubble inside the form to take up most of the space so that you don't have to mix up a million bags of concrete. Weave in a little re-bar just for good measure. I used 7 80lb bags of premix for this job.
Pour
Mix up the concrete and pour or shovel it into the form, making sure to work it down in-between your rubble filler. I mixed mine in a wheelbarrow, but if you have half a brain, you will rent one of those power mixers. Bang of the frame a bit with a sledge hammer to vibrate out as many air pockets as you can. You may still have some voids showing on the outside, but you can patch them later.
I plan to add flagstone treads to mine later.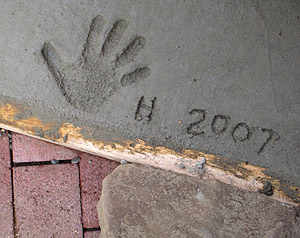 Find a Kid
Go find a kid and let them leave a handprint in the wet concrete, Leave it to Beaver style.
Warning, here is what one disgusted commenter had to say:
"Well as someone who does concrete work I need to tell you a few reasons why I would have to rent a jack hammer and redo these stairs if I had done this for any paying customer. And, you should do the same! These stairs are a hazard and everything but the hand print looks like crap!!! As someone pointed out already: the bottom riser being so much shorter then the others is a trip hazard going down. You need to measure how far the stairs have to drop and calculate the risers to ensure they are even. Example" if the difference in height from his gate to the patio is say 28″ then he should have made four 7″x ? risers.
Its looks like the only finishing you did was hand floated it flat and put a hand print in it. Good job on the hand print but bad job on the rest. It doesn't look like you edged it to put a smooth round finish on the edge of each step. So, the sharp edges you left are like concrete knives! I would hate to trip and fall on them because you will most certainly lose some skin! And speaking of falling. It also doesn't look like you broomed the stairs either. This leaves a rough texture on the concrete to minimize slipping. The surface of smooth poorly finished concrete is like ice when its wet! These are the reasons why no one should ever pour a stairs anything like this one.
The base work was also done wrong too. You need to use properly compacted material for your stair base and I doubt any rebar went into this project so you may not need to worry about them for long anyway. The concrete is poorly supported and will likely crack and heave. Mother nature will jack hammer them out for you over the next few seasons. Especially if you get winter. And, what kind of concrete did you use? There are different types of concrete too!
Some projects are do it yourself and some aren't. Concrete isn't."