Finally, a product that delivers the thrill and excitement of dissecting an owl pellet, but without all the anxiety about contracting bird flu, or picking up avian fecal lice.
The Perfect Formula
So many educational and science toys for 4-6 year olds (at least mine) fail to deliver on their advertised promise of making science learning fun and engaging, either because they are too complex, and kids lose interest before finishing the projects, or they simply don't live up to their promises (think Sea Monkeys).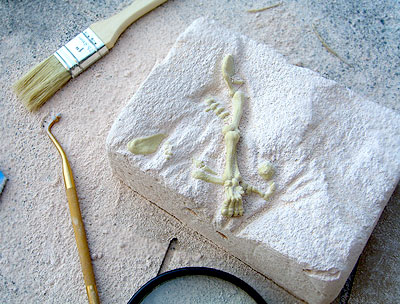 Well here's one to keep in your arsenal of sure-hit birthday party offerings for the 6 year olds: The Ice Age Digs Archaeology / Paleontology sets from the Kidology Geo Safari line.
The kit consists of a block of sandy, plaster-mud aggregate into which a disassembled model skeleton has been cast, and a couple of small plastic excavation tools. I upgraded the toolkit with a 1 inch paintbrush for removing dust and debris, and a dental tool of some sort that I had lying around. You also get a little poster showing what the fossilized subject might have looked like in it's natural habitat.
Dig This
My son Ivan was given this for his sixth birthday, and today we broke it out. Within minutes, he had exposed the Sabre-Toothed Cat's scapula. He spent the next two hours fully engrossed in picking away at the subtrate and carefully brushing away the dust until each bone group came free, then cleaning the bones in water as they emerged from the block.
Be sure to do this outside, as it generates a huge mess.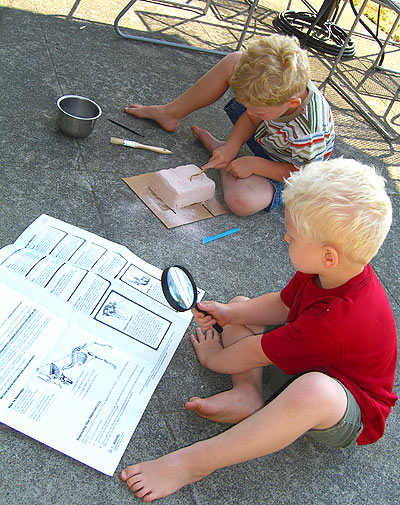 When the 10 individual pieces are uncoverd and brushed clean, they snap together into a neat little display model. They are not quite Skullduggery quality, but they are pretty nice little models for their price point. We will deffinately be getting the other kits in the series.
Cast your own?
I noticed that the different skeletons are also sold as "models" only, for 1/3 the price of the "Dig" versions. There is a Mastadon and a Neanderthal in addition to the Sabre-Toothed Cat. I might just experiment with casting my own "fossil" versions of the model-only kits.