Do you ever get the feeling that you're always on camera? Well if you don't, you should, because you are.
But before you get too worked up about it, set those fears of creeping fascism, and tinfoil hat conspiracy theories aside for a moment and put Big Brother to work for you.
Last month I got a call from a co-worker who was standing in the parking garage about a block away, where we both park our cars. "Dude, I think somebody just nailed your car. Blue BMW 2002? Plate number blah blah blah?….Yeah…" By the time I had finished working on what I had to get done before I went home, I had already calmed down from my initial shock and anquish, and really just had a sort of morbid curiosity about the damage, along with some sadness for my car and myself, since I don't carry collision insurance on that car, and it was likely to cost me alot of money.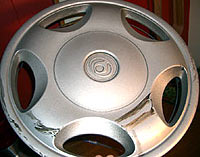 Among the debris next to my car there was a hub cap. I didn't recognize the logo on the hucap, but as I relayed the details of the event over IM, one friend told me that it was an early nineties Mazda, and another ponted me to the hubcaps.org site, where you can find every hubcap imaginable along with some useful meta data.
So, I knew that the slimy, piece of spineless, irresponsible scum, otherwise known as the hit and run driver, had a thing for the 93-97 Mazda MPV minivan.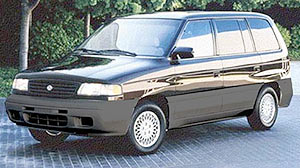 The following day I printed out a picture of a typical 93-97 Mazda MPV, along the following report and gave a copy to both the parking garage management, and to the head of security in the office building where I work:
Incident Description:
March 9, 2005
Buttler Garage, 9th floor South.
My car was backed into a parking space, there was a dark colored vehicle backed into the space to the left of my car when I left it there at 12:00pm.
I got a call at about 5:15 pm from a friend who was leaving the garage and noticed that my car had been hit. Near my damaged car, I found a hubcap which is from a 95-97 Mazda MPV Minivan. The cap is definitely from the vehicle that hit my car.
The Mazda is Dark green, blue or black in color, as some of its paint was left on my car. The Mazda will be missing its right rear wheel cover, unless it has since been replaced. Some cars of this year and model had two-tone paint, with the lower panels being silver, some did not.
If you can find out any information about this vehicle by either reviewing you security tapes or reviewing the makes and models of cars that are associated with parking permits, please contact me.
thanks
Steve Lodefink
Walt Disney Internet Group
Smith Tower
office: 206 xxx xxxx
Home: 206 xxx xxxx
That description was enough to convince the security people at my office building to spend a little time going through the previous afternoon's tape from the security camera that they have pointed over toward the entrance to the garage. Sure enough, a dark-colored MPV-looking minivan comes rolling out of the garage just before 3 pm, and it is missing the right rear hubcap ( top photo in post ).
That pinpointed the time that the minivan left the garage, which made the security person over at the garage much more willing to look at the previous day's archives from their 2 cameras. I was able to get copies of all 3 videos. On one sequence, you could almost make out the license plate number of the van as it left the building. Using an advanced, multi-frame interpolation and analysis technique that I learned over at the NSA, ( in other words, I just squinted ) I was able to determine the license plate with a reasonable amount of certainty.
A check on the plate number did indeed reveal that it belonged to a dark green 1995 Mazda MPV.
The registered owners name, address and telephone number was appaently very usefull to my insurance company in tracking the driver down, because today they sent me a check for the full amount of the damages minus the $100 deductable for my uninsured motorist coverage.
Some confused readers have commented, so here is a slight clarification:
After several phone calls and attempted personal visits, I was not able to contact the owner, so I finally asked my insurance company to look up their insurance company, in order to determine if I would be eligable for compensation under my uninsured motorist coverage (get this if you dont have it, it is really cheap). I can only assume at this point that the Mazda driver did not have liability insurance, otherwise my insurance company would not have paid out for uninsured motorist damages.