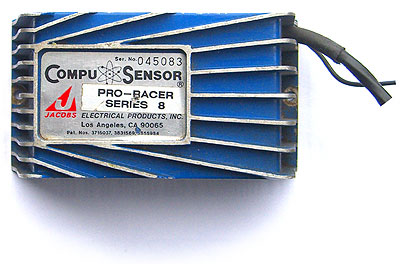 Every hot-rodder knows that by using parts that themselves look fast, you can make your car go just a bit faster than it would have gone had you chosen the slower looking part.
This understanding was not wasted on the folks at Jacobs Electrical Products Inc, when they styled the case for this vintage "Compu-Sensor" transistor spark module. The cooling fins are angled such that the screen printed, serial numbered label plate seems to be appoaching the sound barrier while re-entering the atmosphere after hurtling through space.
The Jacobs followed me home when a fellow vintage BMW enthusiast was giving it away. I have no real use for it, but I'm a sucker for anything with an atomic-themed logo.