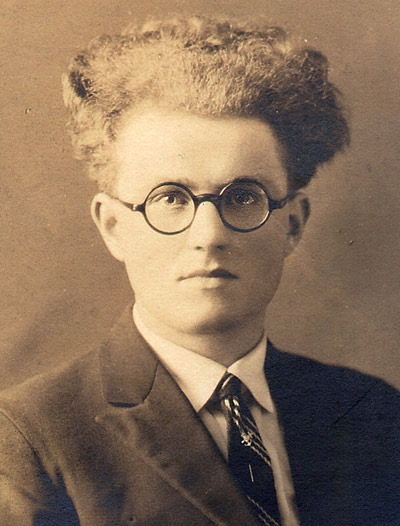 Jarle Helland came to the U.S. from Norway in 1920 after serving his compulsory stint in the Norwegian Army. To sample the New World, he purchased a Tin Lizzie and drove it across the continent at a time when (I would imagine) his route was scarcely paved.
Jarle was a tinkerer's tinkerer. A master carpenter and mason, he built his own house in Bellingham, Washington – first constructing the garage, living and working there while he built the main house. By the time he was finished, the estate boasted 9 buildings. He built his own wooden boat, complete with windsheild salvaged from a '55 Chevrolet. From what I can tell, he liked to keep a tool in his hand.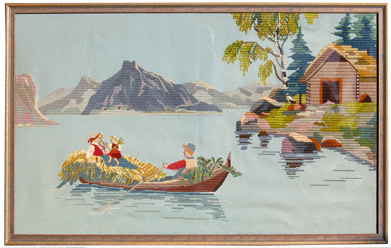 But he was also comfortable with an embroidery hoop in his lap.
Jarle Helland was my wife Linda's Grandfather and she admired him immensely. She has a lot of grand-daughterly memories of her grandpa. He smoked a pipe, salted his bacon, spoke Norwegian and sweetened his coffee by keeping a sugar cube in his mouth while sipping his cup-o-joe. Whenever the grand kids would come to visit the house, they would rush to the bedroom nightstand where they would find a single candy corn waiting for them in a purple bowl. As was common with carpenters of his generation, Jarle was missing a good number of fingers by the time he retired.
Linda also remembers staring at this tapestry as a little girl, imagining herself as the girl in the boat, cruising around the Fjords.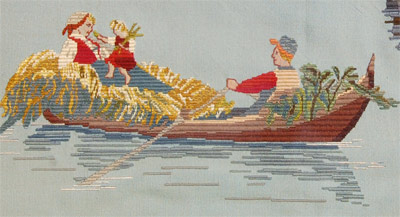 Her grandfather embroidered this monumental (5 feet wide) piece of stitchery. Of course, I don't know the exact circumstances, but I can imagine that he completed this over the course of a dreary Washington winter while listening the news on a wooden console radio, passing the time between trips to the basement to shovel lumps of coal into the furnace.
We just inherited this piece, which now hangs in in our laundry room, a nice reminder of a talented and crafty grandpa from Norway.
UPDATE:
Linda's cousin Erik says:

"Came across a great write-up about my grandfather and wanted to add a couple pics of his 1959 Norseman boat. Built by the Bellingham Boat Co, he purchased the rough and mostly incomplete hull. Suited him well as he was a Norwegian immigrant originally from the fjords of Norway. My dad swept floors there so grandpa received a 10% discount. A woodworker by profession and hobby, he went to work on completing the deck, interior, etc. Windshield compliments of a smashed 1955 Ford found in a junkyard! Since grandpa died, we've replaced the old 35 hp Evinrude with a 55 hp Suzuki and refinished all surfaces. Don't worry, the old "Tee-Nee" trailer (shown) was also replaced with a solid EZ Loader a couple years back."