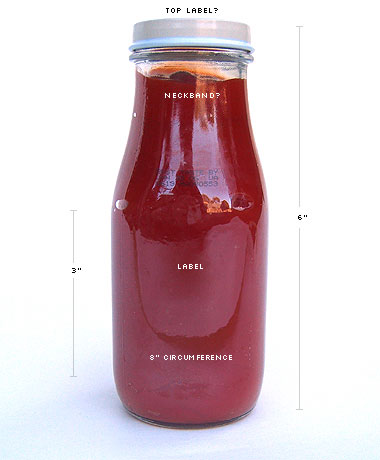 You don't have to be Malcom Gladwell to notice that in the mustard world, fads come and fads go, varietals and variants are tried and eventually embraced by consumers.
Ketchup always stays the same.
Here at Finkbuilt Labs, our plan is nothing less than to shake the world out of this condiment orthodoxy by introducing a NEW tomato ketchup. Change can be unsettling, but fear not, FINKZ Tomato Ketchup will do everything your old ketchup did, and more.
An open call to designers
Before FINKZ Tomato Ketchup can come to dominate the marketplace, as it inevitably will, it needs an identity. This is where YOU come in!
As the FINKZ Tomato Ketchup label designer, you will have the once-in-a-lifetime opportunity to be a part of something big. But since we know that while contributing to progress and meaningful change can be satisfying, it's easy to put it off until later. That's why this design contest is offering a generous incentive package of cash and prizes to the one who dreams up the winning label.
Grande Prize
First prize will be a George Nelson ball clock by Vitra in your choice of finishes generously donated by Finkbuilt booster Patrick Fisher proprietor of Portland's premiere modern furniture retailer Hive, on the condition that I stop making ball clock-related posts on finkbuilt.
A $265.00 Value!
Thanks Patrick!
And as if that wasn't enough, you will also be receiving an official Finkbuilt Labs Apron, a garment equally at home in the kitchen or shop.

Plus, you'll be getting a 20 stack of Jewelboxing Kings, the super-slick CD/DVD packaging system from Coudal Partners. Thanks Jim!
In addition to all of this, you will receive a bottle of FINKZ Tomato Ketchup, sporting YOUR label, for your portfolio.
Second Prize
The runner up will be awarded a cash purse of $US7.00 paid out in the following oft-ignored demoninations:
3 – $2 bills
1 – Kennedy $1 coin
And, you will be treated to a $50.00 shopping spree at The3dStudio.com, where you can get all sorts of models and images to spruce up your future designs. Thanks Matt!
Guidelines
The initial run of FINKZ Tomato Ketchup will be bottled using 100% recycled 9.5 FL OZ Starbucks frappuccino bottles, the pertinent dimensions of which are illustrated above. Check one out in the grocery store if you need to get a better feel for the bottle. Your label design will need to fit this bottle. Please reserve space for a Nutritional Information panel.
The labels will be printed on a color laser printer, so no foils will be possible. Neckbands, top cap labels, and odd shapes are welcome.
Feel free to add any zippy slogans, catch-phrases or pitches that you think appropriate.
If you know a stitch of HTML, you can make your submission by simply posting an img tag in a comment to this post. Images posted in comments must be no wider than 400 pixels. If you prefer, just email me your entry in any common graphic format and I will post it for you.
I will act as contest judge, and in the unlikely event that no entries are deemed appropriate, I will design an alternate label, and the winner will still receive the prizes (no longer applies).
You should retain your original design in a high-resolution file so that a quality print can be made, should your design be selected.
Deadlline for submissions is October 31, 2005.
Good luck!