George Nelson recalled about the design of the Ball Clock:
"… there was one night when the ball clock got developed, which was one of the really funny evenings. Isamu Noguchi came by, and Bucky Fuller came by. I'd been seeing a lot of Bucky those days, and here was Irving and here was I, and Isamu, who can't keep his hands off anything, you know- it is a marvelous, itchy thing he's got- he saw we were working on clocks and he started making doodles. Then Bucky sort of brushed Isamu aside. He said, "This is a good way to do a clock," and he made some utterly absurd thing. Everybody was taking a crack at this,…pushing each other aside and making scribbles.
At some point we left- we were suddenly all tired, and we'd had a little bit too much to drink- and the next morning I came back, and here was this roll (of drafting paper), and Irving and I looked at it, and somewhere in this roll there was a ball clock. I don't know to this day who cooked it up. I know it wasn't me. It might have been Irving, but he didn't think so…(we) both guessed that Isamu had probably done it because (he) has a genius for doing two stupid things and making something extraordinary…out of the combination….(or) it could have been an additive thing, but, anyway, we never knew."
(George Nelson: The Design of Modern Design; pp 111).
Hmm… I wonder what it would have been like to be in that little scribble session with those guys…
George Nelson vaguely recalls:
"I remember that at some point Steve Lodefink came over, and he had this weakness for absynth you see, and we had all been hitting it pretty hard all night, anyway Steve grabbed the pencil from Isamu, and slurring something about radiation from the Atomic tests mutating everything into huge manifestations of what they had been or some such nonsense, I don't know, nobody really remembers much about that night. When I brought the drawings to Herman Miller the next day they immediately pointed to the huge, 27 inch welded-steel version of Noguchi's idea….
…huh? oh, hi.
So, I have great peeps. This year for Father's day, Linda gave me a welding class. It was absolutlely the prefect thing. I have always wanted to weld. I have had so many great hair-brained ideas that I never got to make the mistake of beginning, because they called for welding. The barrier to entry always seemed so great, the learning curve too high. The whole welding thing seemed a little too exotic, or hot and difficult, or something. My lack of welding always loomed in the background, a gaping hole in my tinkering palette.
Learning to weld
It turns out that welding is really quite accessible. With today's 115v wire-feed MIG Welders, welding is really not much more involved than using a hot-glue gun. If you use flux-cored wire, you don't need any gas bottles or regulators or welding rod. The welding machine itself looks sort of like a big power suppply or something with a gun on a cable and big clip attached to it. You pretty much just hold the tip up to your work, pull the trigger and you're welding!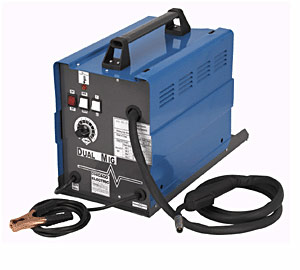 There are only 2 adjustments that you make; voltage, and wire feed rate. All Mig welders have a little chart that suggests a feed rate and voltage setting based on the thikness of material that you are welding. When you pull the trigger, the wire shoots out and contacts your work piece, which is grounded to the machine. When the wire hits the work, the circuit is completed and it arcs like mad, which melts the metal, and bingo! Welded.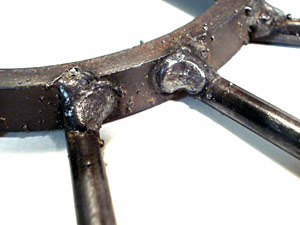 My clumpy first welds.
The class I took was a Discover U, 2-day intro to MIG welding class called "Garden Art Welding", but I pretended it was called "Intro to welding for Industrial Design".
The night before the class I thought about what I could make. We live in a 1955 split-entry house that has this big sandstone chimney that divides the entry from the living room and I thought I could make some kind of Astro sculpture to add a little atomic pinache to the space.
I e-mailed the instructor to get a clearer understanding of the scope of project that we would be able to tackle, and it turned out that we were not going to have access to a plasma-cutter, and would pretty much be limited to small rod, wire, and bar stock materials for our projects, so I had to scale down my plans a bit.
I had always admired the Nelson ball clocks, but at 14 inches in diameter, they are a bit small for the space that I had in mind. So I hatched a plan to weld up a frame for a jumbo ball clock 27 inches in diameter to adorn the back-side of the fireplace.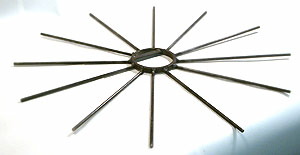 I went to Rockler and purchased a dozen 2.25 inch maple balls, a quartz clock movement, and a packet of clock hands. I plan to make the clock dial out of ebony, but I havn't priced it out yet, we'll see.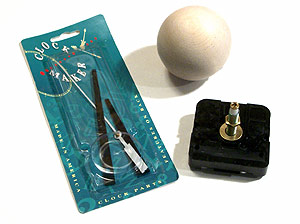 I don't really have all of the design details worked out for the dial yet, but I think that I will remain fairly faithfull to the original, only super-sized. Or maybe I will invite a bunch of people over to get drunk and we can start sketching and see what emerges.
Oh, and I am deffinately going to have to set myself up with a MIG welder at home! If you are interested in welding, don't be shy about trying MIG.