I think that I may have just out-nerded myself. You see, the 2-minute dueling sabers were fun for a couple of days, but they weren't the most durable things in the world and were a bit lacking in the realism department. So I decided to build a nicer set of "elegant weapons from a more civilized time age".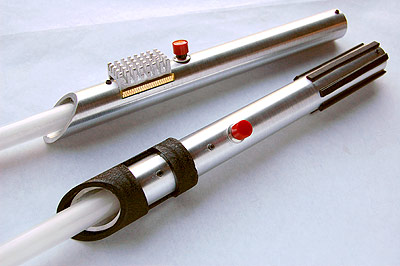 The Hilt
After researching lightsabers, I learned that the original lightsaber props were made from 1950′s vintage Graflex camera flash guns like might have been used on old press cameras. In fact, the Luke Skywalker saber was pretty much an unmodified flash handle. If you want a true replica of the Luke Skywalker or Darth Vader sabers, you can always get a Graflex flash on ebay but they do cary a stiff premium because every Star Wars geek has the same idea.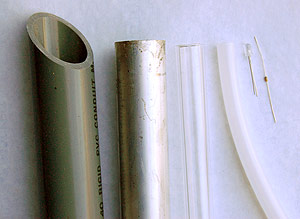 I opted to start from scratch, so I purchased some 1 3/16 o.d. (some schedule 40 size) aluminum tubing from a metals house. I chose this size because it looked about right to me and a "C" battery slid nicely inside with a little spare room for a wire. I bought a 2 ft length of the tubing and cut it in half at a 45 degree angle, and twisted it in some sandpaper to give it a nice machined look.
Reminder: You can cut aluminum no problem on your table saw with a carbide blade.
I had an old bicycle seat post that happened to fit perfectly inside the aluminum tubing that I bought, so I used that to make the bushings for the blades and the battery terminals. The rear battery terminal also serves as the end plug/battery retainer.
The Sith
For the Vader version, I cut a shroud from some PVC conduit and gave it a wrinkle finish to emulate the vintage camera equipment feel of the original. strips of rubber cut from an old auto floor mat make up the grip. The mythology says that the original propmaker used strips of windshield-wiper as the grip.
The Jedi
The Skywalker saber sports a spartan, gripless motif. I chopped up the heat-sink from an old pentium to form a cool space-age looking thing-a-module to adorn the top. Gold connectors from the edge of the circuit board finish it off.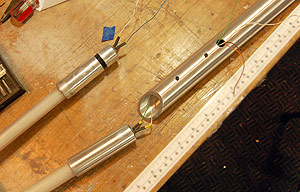 The Blades
There are two popular ways to light up a saber. The first is EL, or electro-luminescent wire. This is a glowing wire that you power up with a high-voltage transformer. This technology provides a nice, bright even glow, and is probably the preferred method. The second common way is to use a single, 3-5 watt Luxeon high-output LED located in the hilt to light up the blade.
I used an alternate method that I learned from Instructables member jmumby. This method chains a bunch of bright LEDs wired in parallel to form the core of the blade. The result is an extremely bright blade. However, there is a slight "rope light" effect visible due to the individual points of light. This problem can be mostly mitigated through the use of a suitable diffuser.
Tip: When you order your LEDs, look for the brightest, but also look for the widest viewing angle that you can find. The wide-angle diodes look much brighter. Don't forget resistors. Here is a neat calculator for finding the correct current-limiting resistors to match your LEDs.
Again – before you decide to build an LED blade, I would research EL wire as an alternate light source.
After soldering up the LED chain, I tied a thread to one end. Then I pulled the led array into a length of 1/2 inch o.d. milky polyethylene tubing, which I first sanded to increase it's light diffusing properties. That tube then gets inserted into a 3/4 inch clear outer tube which received an interior sanding to further promote light diffusion.
If you plan to use your sabers for dueling, you will want to use polycarbonate tubing, as this stuff is nearly indestructible. If you don't plan to whack anything with it, you can use the more commonly found acrylic tubing.
Wow, "the kids" really like them.
Related: The Flashlightsaber