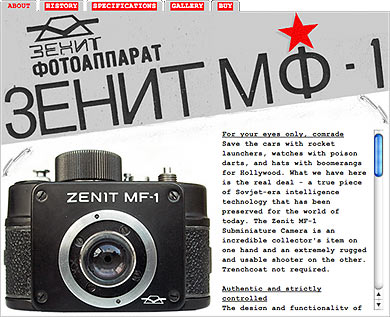 Hardcore Soviet camera buffs and sub-miniature collectors get out your Platinum cards. The lomographic Society International just added a nifty little cold war gem to their camera line. The Zenit F-21 was produced for use by the Soviet intelligence services after WWII, and reportedly used well into the 1990′s. Now Zenit has granted an export license to LSI and is badging the "new" model the MF-1.
Authentic Soviet Military Hardware
"Unlike the masses of mini-cameras, this precious item is the real deal. During its initial production, each piece was strictly controlled and assigned to a single state intelligence operative. To this day, it is classified as protected military hardware and undergoes a stringent export protocol with the Russian Federation's Ministry of Defense. The Zenit MF-1 is an authentic and priceless piece of history."
Although the Soviet state may have crumbled, the bureaucracy seems to be in pretty good health, as according to LSI, it takes 6 months of paperwork to get one MF-1 camera kit out of the country. There must be a lot of palms to grease too, 'cause LSI is charging $US 1000.00 per kit.
The kit comes with complete with developing tank, cable realease, 3 film cartridges, and a little hand-cranked device that slices the sprocket holes off of a roll of 35mm film, bringing the width down to a stealthy 22mm. Unfortunately, this also renders the film unhandleable by all but a few custom film labs.
Soviet cameras generally have really great optics, rivaling those coming from the famous German glass makers. The sharpest photos I have ever captured on 35 mm film were taken with a Kiev 35A, a Ukranian knockoff of the Minox 35 that has an incredibly great lens, but a build quality so poor, that the camera is almost un-usable. You have to tape it all up, and keep it in the dark while you open and close the folding lens cover, or the light leaks will ruin the film within. The MF-1 doesn't look as though it suffers those quality issues.
Not an everyman's camera for sure, there are a whole bunch of reasons not to get an MF-1, but there's really no pont in talking about those. Link via Tip