I was so impressed that Linda had agreed to let me buy a 55 inch taxidermed yellowfin tuna to hang above the fireplace in our living room, that I changed my mind about it and decided on something that I knew she would really like. A portrait of the two loves of her life.
I have really been getting into contemporary/pop surrealist painters lately, and I have some ideas of my own that I would like to pursue, so doing this fairly straight portrait from one of our favorite photos will be a good chance for me to hone my technique before I bust out on some of my own themes.
Painting with Crutches
Talented artists might just squint their eyes, and start blocking out the basic forms, but I am a hack, and need to employ a few tricks to help me get going. To make it interesting, and easier on myself, I decided to do the painting in a monochrome blue rather than "living color". I am also using a little Photoshop manipulation, and a grid to help me block out the basic foundation.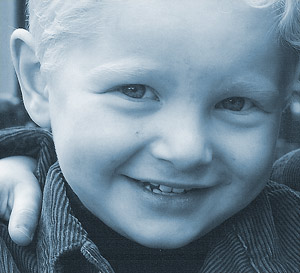 Photoshop Cutout Filter
After I changed the color to a blue monochrome, I ran the cutout filter on the image.
Filter » artistic » cutout, with the following values:
No. of Levels: 8
Edge Simplicity: 4
Edge Fidelity: 2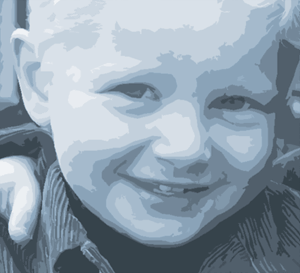 The result is an 8 color image with distinctly delineated shading.
Grid it
Getting off the grid of all good and well if you're talking about becoming energy self-sufficient, but if you aren't the worlds greatest sketch artist, and you want to do a well-proportioned portrait, you might want go stick with the grid (or better yet, an opaque projector). I printed out my filtered image, drew a grid onto it and indexed both axes with numbers and letters.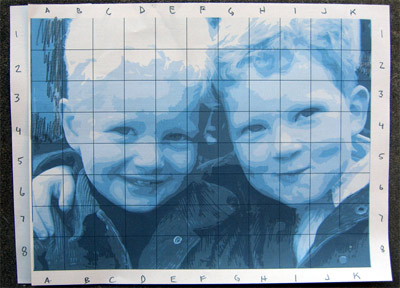 Then I drew a similar grid onto my art board to use as a guide while roughing in the image. After getting the basic face outline and feature position, I drew in the "cutout" lines that the photoshop filter produced.
The idea is that I will just fill in the basic shading as if I were doing a Paint By Numbers kit. I will then put on a few more layers of shading, making it progressively smoother, with subtler gradients each time, before adding the final detail and line work. Wish me luck.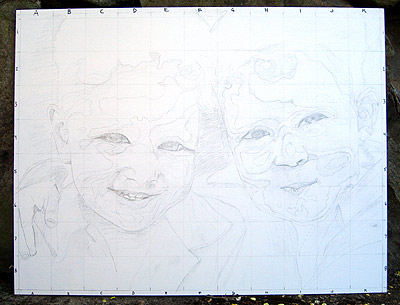 Next up: Putting on some paint.