I just bought this gargantuan lens from American Science Surplus, and I recommend that you do the same as soon as possible.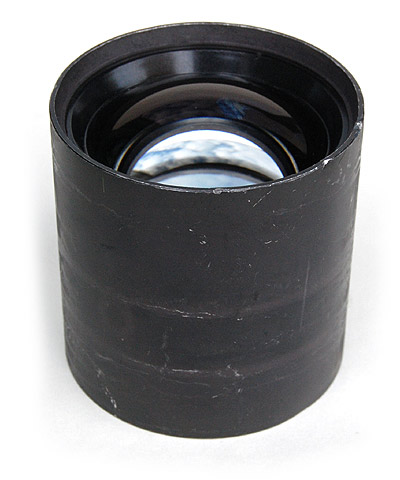 Huge Lens
Even if you don't plan to build a projector, telescope, or a big red pulsing HAL 9000 eye, you should pick up one of these lenses just to have sitting on your desk as a paperweight. The girth and heft of this optic is really quite impressive and for $10.95 you really can't lose.
Opaque Projector
What is an opaque projector you say?
You know, it's one of those contraptions that takes flat copy (not trasparencies) like printed matter, etc. and projects it onto a screen, wall, canvas or whatever you point it at. It's a camera in reverse, with the light on the inside.
I bought this big lens to use as the heart of a drawing projector. You see, I found out that I like to paint, and an opaque Projector is a pretty convenient way to transfer your design onto the canvas without having to use a grid. When I started to look around for projectors, I found that the cheap ones like the entry level "Art-0-Graph" would only project puny little 3 inch originals. Even the $300.00 models seemed kind of limited at 6 inches. I want one like the big green wrinkle-painted monster that my grade school teacher used to wheel out on a cart, capable of taking at least 8×10 copy. Instead, I decided to build my own projector because, you know, I am that way.
I figure that I will get a much better performing projector for much less cash outlay (and have fun buiding it).
I found these old Edmund Optics DIY projector plans in PDF format, and the search for a suitable cheap lens was on.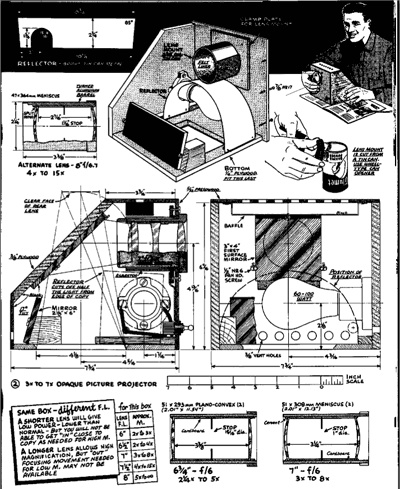 The lens is a takeout from an old copy machine, and does not have any markings on it, but the focal length is 10 inches, and the field of view is really wide. I should be able to make a really nice projector capable of handling large media.
If you don't fancy an opaque copy projector, it is not a great leap to use the same basic principal to make a video projector
Update: Projector Finished.