There are very few magazines that I feel compelled to keep around much longer than a month or so. Maybe certain design annuals, or cool graphics catalogs I might want to keep to cut up to make greeting cards or something, but not just because they are so damned good in their own right. Well, with the release of #5, my stack of Make issues is growing taller.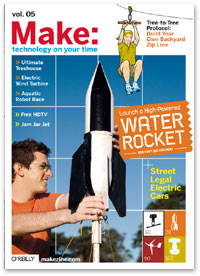 I hate to flog the dead horse of the Make to Old Popular Mechanics comparison, but there is a reason that to this day, you will still see boxes of the old mechanics and science mags at estate sales. Make has mixed up that same winning recipe for shelf life.
Speaking of Make mag, alot of people have asked me in recent months, "where are the new finkbuilt projects? Have you stopped tinkering?"
Hell No! I've been making stuff, ( in addition to the car restoration ) it's just that much of it has been top-secret, black project work for Make that I haven't felt at liberty to post about. In fact in the current issue, I show you how to make some cool water-powered rockets out of empty 2-litre pop bottles and some other miscellaneous debris.
Here is some video of the first launch:
Make is good for you
You will also learn about electric vehicles, and making homebuilt wind-turbine generators and jet engines. Of course there are always interviews with the really outstanding makers, inventors and tinkerers of today. It's just plain good readin'.
You really do need to subscribe to Make. Just do it. Your grandchildren are going to love going through the old box of Make issues some day.