A

dvanced car hacking

What's a Megasquirt?

Megasquirt is an affordable, open-source, DIY engine management computer that you assemble yourself. A large community of developer/users provides for constant development, and great free support.
Me and cars
My car ownership history to date looks like this:
67 Karmann Ghia
74 VW Bus
69 Saab 96
76 BMW 2002
67 Saab 95
73 BMW 2002
One common thread that runs through this list is that these cars all have simple, old, carbureted engines. They have only fundamental automotive electrical systems, with the only real electronics being the instruments and radios, if they even had that. No Check Engine lights here.
I am attracted to these vehicles not only because they are stylish old Euro-cars (capable of surviving a neutron weapon attack), but also because they are cheap and easy to maintain by the self-taught home mechanic. Although I do admire the performance, and "driveability" of a modern, computer-controlled fuel injected car, I have never really wanted to own one.
Not User Servicable
Modern, EFI engines have always intimidated me. I had no idea what all those black plastic boxes, or that tangle of hoses, valves, and wiring was for, or where I would start when it came time to troubleshoot a performance problem. How do you talk to you car's brain to find out what is really bothering it? You don't. Automotive ECUs are closed, black boxes of mystery, certainly not user-servicable, not flexible or configurable.
No interest.
After the Engine Rebuild
When I recently rebuilt the engine in my 1973 BMW 2002, I included some performance upgrades, such as higher compression pistons, a longer duration camshaft, and a bigger-bore carb. I was astounded at the increase in throttle response and torque with the new setup, but I just couldn't get the carb tuned the way I wanted it. There was a bad "stumble" at low speed, and horrible fuel consumption. After a string of jetting experiments, I went back to a smaller, smoother carb (Weber 32/36), but of course, there were some performance trade-offs to live with as a result.
I have been driving in this smooth but de-tuned state for a while now, but knowing that there is a better engine under that hood, just waiting to be let loose, was driving me nuts. So, I started collecting parts to convert my engine to Electronic Fuel Injection using Megasquirt. From what I gather, EFI will deliver both performance and economy. Sign me up.
If you are not intimate with the workings of EFI systems (as I wasn't), take a look at this Megasquirt wiring diagram.
Pretty much the only things in this diagram that my car has now are the battery, ignition coil, and switch. The rest has to be cobbled together and adapted to my motor. There is also some stuff that isn't in that picture, such as an air intake manifold, throttle body, and cold air intake, and idle control components. This is by far the most ambitious automotive tinkering that I have taken on to date.
Wideband Oxygen Sensor
Before I had actually commited to going EFI, I decided to install a wide-band oxygen sensor to help me get the carbs dialed in. This was extra satisfying for me because an o2 sensor is a vital part of a fuel injection system, something that I aspired to add some day (and that day has come), and therefore this was a dual-use item for me.
A wideband o2 system consists of an exhaust gas oxygen sensor, and a seperate controller. The controller interprets the voltage from the sensor and displays it to you (or to another controller) as an Air/Fuel ratio.
I chose to install the Innovate LC-1 Wideband controller, as well as a little numeric LED display that shows me current AFR.
The LC-1 also does some datalogging, and comes with software that lets you save the logs as well as read them as graphs and tables.
Since my car did not previously have an oxygen sensor, I brought my exhaust header downpipe to a muffler shop and had them weld in the threaded sensor bung that came with the LC-1 kit.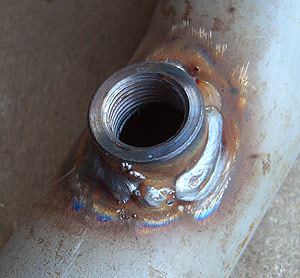 The wideband o2 was indeed a huge help in figuring out the ideal carb jetting. Without the AFR data, jetting a carb required alot of chicken bone necklaces and voodo peace offerings to the jet gods, to get it right.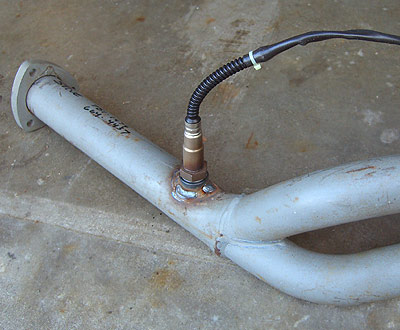 Parts buying spree
A recent infusion of cash from the sale of my motorcycle sent me on a massive EFI parts buying spree, and propelled me into full and immediate comittment to the megasquirt project.
I pretty much have everything I need for the converion either on the way, or in the works. The sexiest part so far is the medusa-like air intake manifold that came from an 84 318i. this will bolt right up to the 2002 head, and has the injector ports cast right into the manifold.
Some people go with individual throttle bodies, which gives a more period correct and racey look, but presents a bit of a problem, since Megasquirt relies heavily on Manifold Absolute Pressure for mixture control.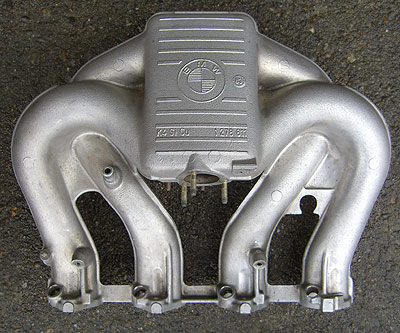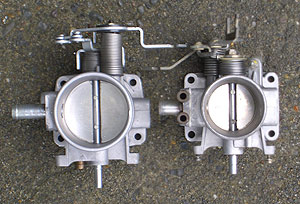 I am using a throttle body from an E30 325is, which has a 2.5 litre engine. This should flow plenty of air for my warmed-over 2 litre. TB shown here next to the smaller 318i throttle body that came with the manifold.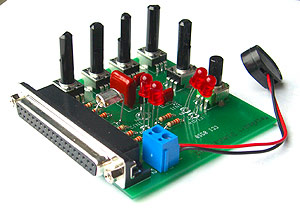 Assembled "stimulator"
I ordered all of my controller related kits and components from DIY Autotune, who supplied me with a kit for the main controller board, a relay board, and a Megasquirt "stimulator" kit, which is a little potentiometer board that emulates inputs from the engines' sensors. You use the stimulator to test and troubleshoot the main controller board while you assemble it.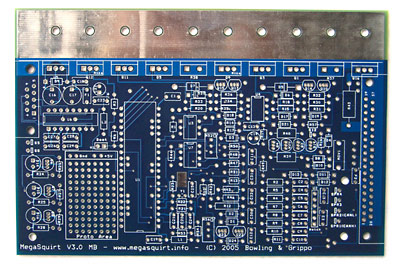 Unasembled Megasquirt controller board
Next up: Assembling and testing the controller.