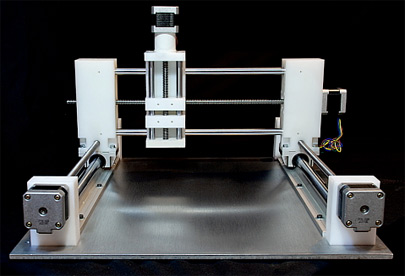 I love building things from kits almost as much as I love building things from scratch, and I think that it's safe to say that the latest kit to show up on my doorstep is going open up a whole new world of scratch-building for me.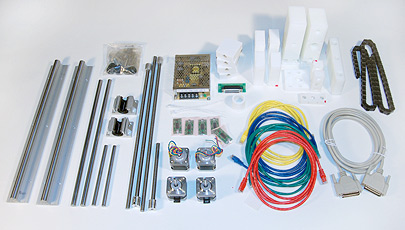 MicRo
The micRo is a 3-axis CNC robot being offered no longer made by Lumenlab, the same folks who made DIY video projection accessible to the world. Grayson Sigler, the Brainchild behind Lumenlab (brainchild is also his handle on the inter-tubes) describes micRo as a desktop manufacturing workstation. I have a hunch that Sigler has greater ambitions than simply enabling people to make things. I suspect that he is actually preparing to seed the planet with an army of self-replicating machines that will one day rise up and fulfill their destiny – but I'll save that for another post.
As the name implies, micRo is has a small footprint, but make no mistake it is not a toy or just a platform for learning about machine control (although it will do that) , but a solid base to which you can attach a tool to do whatever it is that you want to do. This is not your typical "MDF and all-thread" type DIY CNC, but a tough, high-tolerance machine. The Lumenlab website offers the following suggestions as to what you might want to do with your micro – but if you can't think of a hundred things to use it for, then you are probably not the target market:
RC projects: model planes, cars, boats
robotics projects: make parts for your hexapod robot
wood-carving
fashion and home decorating: print on tshirts and fabrics, cut patterns
sign making: cut vinyl, wood and more
circuit boards: highly accurate pick and place
A/V components: speaker cases, DIY projector cases, rack panels
art: air-brush, paint, sculpt – make a multi-paneled mural
manufacture: manufacture components for larger CNC robots (like RoGR)
mould-making: make moulds for casting
deposition-printing
jewelery: dremel intricate patterns
The Kit
The micRo is available in 3 trim levels – basic, premium, and gold. I received the premium package which included:
Supported Y-ways
Bearings and lead screws
All of the machined and drilled plastic blocks
4 Nema 17 stepper motors
Step drivers
Power supply
Fasteners (screws etc)
DB25 com cable
4 RJ45 cables
cable chain
Unboxing the kit was a treat, everything was really solid. The house-machined lead screws were really nice, and the quality of the machined technical plastic parts was confidence inspiring.
As was the case with the projectors, Lumenlab maintains a a user forum specific to their robotics projects, so expect plenty of peer discussion and help. There is already an "assembly manual" thread on the forums that has some really nicely shot assembly photos. I really can't wait to get this thing together.
Next up: Making a base.