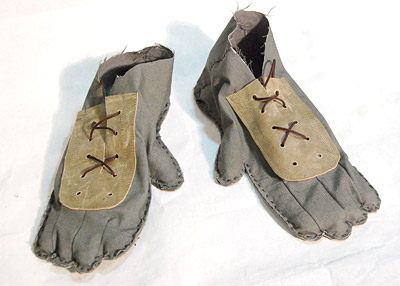 Possible new career direction, Simian Cobbler.
Continuing my adventure in threadcraft, I hand-stitched together these chimp shoes for my halloween costume.
To construct the shoes, I laminated up some 1/8 inch medium density foam and a sheet of the same leather that I had used for my tunic sleeves. From that, I cut out the thumbed soles. Next, I added some carved foam toes in the appropriate places. To make the uppers, I cut some 12×24 inch rectangles from the same fabric that I used for the tunic and pants. I first added some pleats to delineate the toe area. Then I started stitching the upper to the sole, marking and fitting to my foot as I worked my way around the sole of the shoe. Then I cut out and hole-punched the lace-up area and sewed that to the top of the shoe.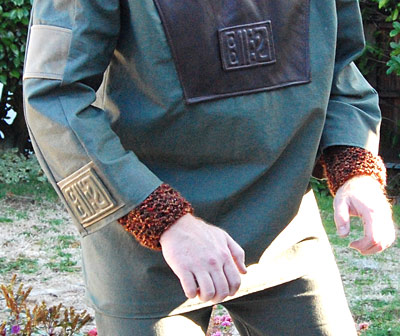 To make the knit sleeve extensions/cuffs, I had originally planned to find a sweater and cut off the sleeves, but I couldn't find the right sweater at the right price, so I buckled down and learned how to knit. This stitchery business is kind of satisfying. I cant wait to try some embroidery!
Full costume photo to follow…..