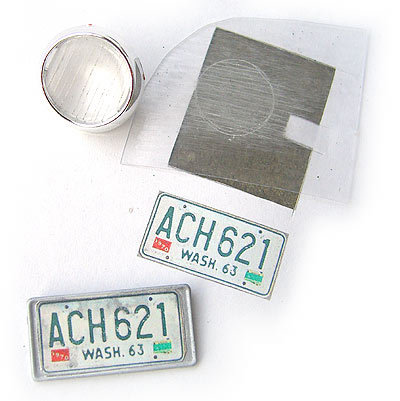 Here I am 40 years old and still building model cars.
License Plate
The original Sand Scorcher came with a plastic license plate which had the words "BAJA BUG" molded into the plastic. The Tamiya Monster Beetle came with a flat plastic plate blank. I decided to give mine a vintage green and white style Washington plate. I hit google imges and found a picture of an old Wa. plate, shrunk it down to size and printed it out. I painted the plastic plate silver so that it would sort of approximate a chrome license plate frame, and glued the Washington plate to the "frame". A couple of coats of clear acrylic should keep the inkjet from running when it gets damp.
Headlight Lenses
Unlike the Sand Scorcher, the Monster Beetle Body came with a smoked glass parts tree, so the windshield and headlight lenses are unnaturally dark in tint. I won't be using these parts. I am planning to run without any window glass, but the headlight rims looked really funny with no bulbs in them (and I sure don't want smoked headlights), so I made some out of discarded "blister-pac" material. First I scored some vertical lines into the plastic to give it that lenticular look, then I hit them with some 6o grit sandpaper to give them a frosted effect. Then I simply trimmed the lenses, creating little tabs to fit the slotted headlight rims.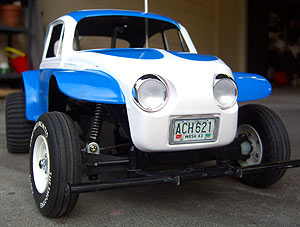 Masked for blue paint.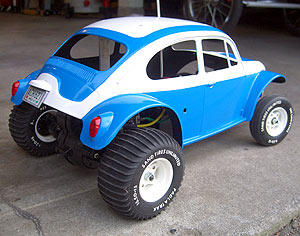 Blue paint applied.
Next up: Decals, and coming up with some sort of motor to fill that big void in the rear.