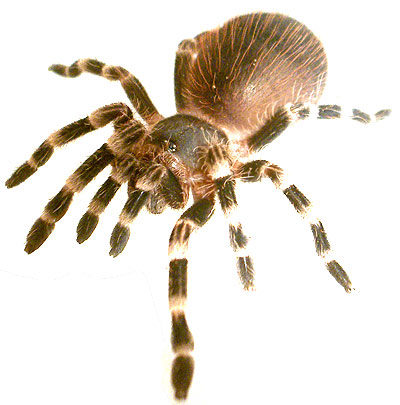 Juvenile Acanthoscurria geniculata
Tarantula spiderlings find the temperature in my Seattle basement just a tad on the chilly side. To keep them active and growing through the winter, I needed to add a heat source. Pet stores offer up some cheap little "resistance-wire" type heating pads intended for reptiles, but the ones that I saw lacked any type of control, and I read that they tend to be hot and unpredictable. I tried a medical type heating pad which had a rheostat, but it ran pretty hot even on the lowest setting.
I remembered reading about people incubating bird's eggs by placing a one gallon jar full of water with an aquarim heater in it, into a box containing the eggs. An aquarium heater makes a great tarantula warmer, since it has a thermostat that quite effectively regulates temperature right in the range that tropical animals like. I elaborated on the design slightly and came up with my spider warmer.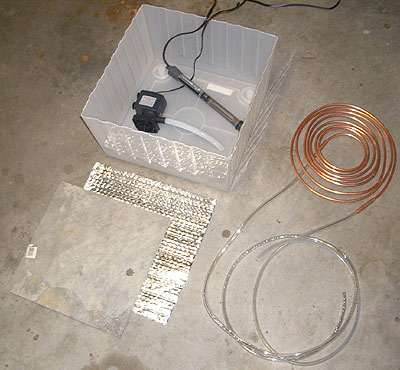 I had all of this stuff lying around from various projects, so this is what I worked with:
1 – 150 watt submersible aquarium heater
1 – aquarim filter pump
1 – plastic tub
1 – 12 x12 slate tile
1 – 12×12 square mylar insulation
15 ft 1/4 in o.d. copper tubing
8ft 1/4 in i.d. vinyl tubing
1 – 5 gal. bucket w/lid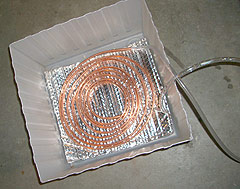 The heater and the pump go inside the plastic bucket, which is full of water. The pump circulates the heated water through the copper tube, which is coiled and sandwiched between a sheet of mylar insulation and a slate tile in the bottom of the plastic tub. The tile keeps the heat nice and even and buffers it a bit. I then put all of the containers full of adorable little arachnids into the tub.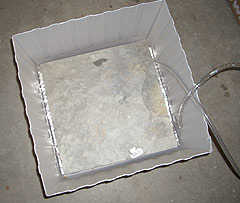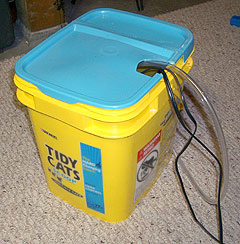 So far, my spiders seem to be liking it. This heat transfer concept could be applied to terrariums or other tropical animal or plant habitats, but keep in mind that if the heat-exchanger is going to come into direct contact with the animals or their substrate, avoid using copper tubing, as copper is poisonous to most critters.