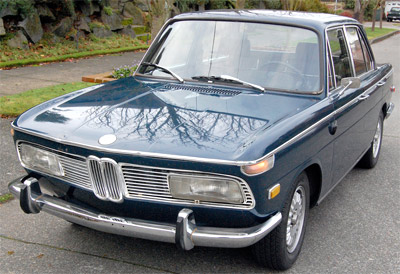 Ther's a new obsession in my life, and believe me, I'm obsessive. Lately I've been spending all my free time, energy, and money refurbishing this "Neue Klasse" BMW.
An Unlikely Orphan
This car came to me in the most remarkable way.
My Friend Hugh, who is a fellow vintage BMW enthusiast was given this car by a co-worker, who had brought it up to Seattle from San Fransisco as a restoration project. When the resto plans went south, she passed the car along to Hugh, because she knew that he was passionate about these old gals. Well, after a summer of driving the 2000 around while his other resto project was in the paint shop, Hugh came to terms with the fact that he simply didn't have the time or space for the project, and knowing how I would treat the car, gave it to me!
Here are some pictures that Hugh took when he got the car: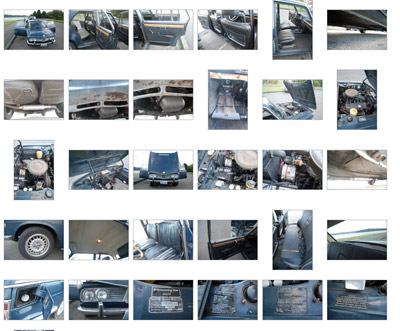 The Neue Klasse BMWs
Almost everyone knows about the sporty little 2 door 2002 which made a huge splash in the motoring press in 1969 and introduced the US market to the BMW marquee. Few however, know about or have ever seen an example of the 4 door predecessor to those cars, the "New Class" 1500, 1800, and 2000 sedans. This line of cars was a gamble that saved the company from bankruptcy, and defined the format for pretty much all BMWs to follow for many decades.
The 1500 4 door was the first car to use the M-10 Motor, which continued to be used in one form or another all the way into the 1990′s!
Have a look around this NK site to learn more about BMW's "Neue Klasse" sedans.
Watch for updates
I will post updates as I work on the car. Here are some of my immediate plans for it:
Clean, clean, clean, clean – ongoing
Replace US DOT lights with Euro spec lights and grills – Done
Buff out oxidized paint -Done
Go through and upgrade/repair suspension and steering -in progress
Replace hard/leaky front and rear winshield seals and lock strips – Done
Replace all crusty door/window seals – ongoing
Repar cracked dash
Replace Auto Transmission with 320i 5 speed – saving up for clutch kit
Replace E30 wheels with stock ti steelies and hubcaps – in progress
Reupholster seats
Repair/recover cracked dash and rear parcel shelf
Refinish/replace interior wood trim
Repair rust area on front valance
Stay tuned.