Nixie tubes were the state of the art in electronic numerical displays during the mid-twentieth century. By the 1970′s they were almost completely supplanted by the cheap, long lived, low power-consuming seven segment LED's. The nixie is a neon tube, typically with 10 stacked cathodes, one for each arabic digit. I can remember seeing them is some electronic test equipment and old pinball machines as a kid, but I had long forgotton about their existence.
When my friend Danny over at Mavromatic showed me how some folks were putting these old tubes back to work as displays for clocks, I knew that i would be building at least one nixie clock, and as it turned out, two.
I love designing and building furniture and cabinetry, but circuit design has never really been my strong suit. Fortunately for me, there are several people offering up circuit board kits that you assemble to drive your tubes. I chose a board kit offered by david forbes from Cathode Corner to drive the German Z560M tubes that I bought on ebay.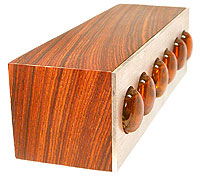 I made a simple rosewood enclosure with a brushed aluminum faceplate and neon colon seperators. I'm pleased with the way it turned out. I added a switch to the circuit that cuts out the high voltage to the display, but leaves the current to the PIC processor going so that I can turn the tubes off at night and on the weekends to extend tube life but not have to reset the clock all the time. I have a second clock in the works, which uses the beautifull and large Russian IN-18 side-view tubes. There is a highly rated IN-18 board kit available from Claus Urbach at Nixieclocks.de if you would like to have a go at putting together your own nixie clock. IN-18 tubes will cost about $25 each. End-view Z560M tubes are going for about 10 bucks a tube.