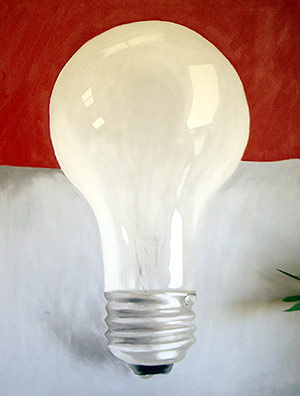 Have you made your concrete lightbulb yet? Once you do, you're going to find that you need a 5 foot tall lightbulb oil painting to go with it. I know I did.
Now let me just make one thing clear, I am not a real artist, I just pretend to be one while I am at work. I mean, I'm horrible. I can't draw for shit.
But I remembered a technique for rendering a somewhat reasonable scale image that I first learned of when I was 7 years old. I used to do those little scrambled picture puzzles in the saturday paper, where you start with a bunch of seemingly unrelated blobs, each with a number on it. you then draw each one in the appropriate square in a numbered grid and when you are done, you have a silhouette of Abe Lincoln or a kitten or something.
You can employ the same technique while resolving your own lack of giant oil painting dillemas.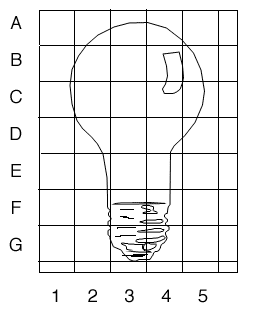 I took a picture of a lightbulb, printed it out and drew a grid on it. Then I drew a grid of the same frequency onto my canvas. Index 2 sides of both your refernce and your canvas grids. From there its just like playing a game of Battleship. Sketch out each box at a time, and when you are done, you will have a nice scale proportional framework on which to start painting. You dont have to strive for Chuck Close style realism with your rendering, just draw what you see in each box, do some shading, add some paint. You'll be surprised how well it turns out.