In the spirit of Pirated-sites.com, I present some pirated commercial illustration from 1950.
I found this tattered packet of sapce-age Japanese sewing needles at a thrift store several years ago and kept it because, well, just look at it. I have had it in a small frame in our bedroom for years, and tonight while I was going through some old magazines I came accross this Oldsmobile ad from a 1950 Rocket 88 campaign.
Now I have to find a bigger frame.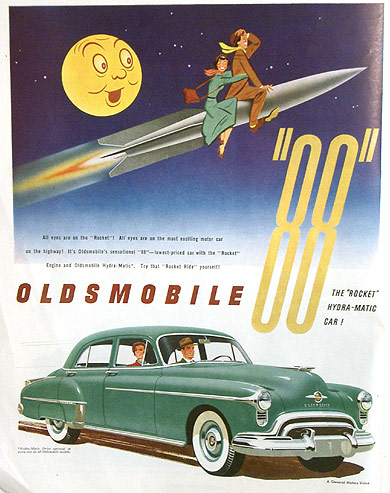 Don't get me wrong, I'm all for appropriation when done judiciously. Just have a look at the Finkbuilt logo and typography, which was lifted straight out of an early 50′s Evinrude spot. But the graphic designers who produced these 2 pieces were contemporaries, working in the same medium. This needle package is a perfect example of Japanese industry's early post-war strategy of shameless mimickry. Japan in the 1950′s produced some really cool knock-offs.