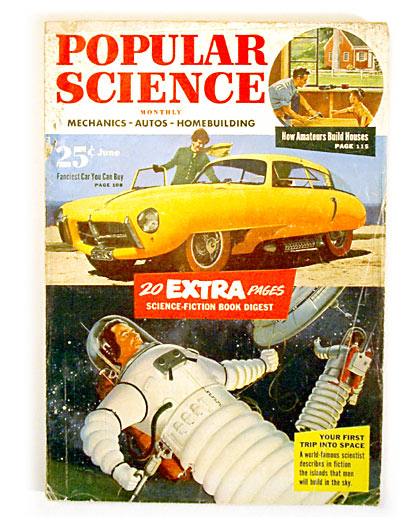 Seattle's Old Technology Shop on Aurora Avenue closed it doors earlier this year, after more than 30 years of supplying seattle crap-hounds with 8-track tape players, 16mm movie projectors, antique medical and scientific test equipment, knobs, tubes, vintage semiconductors, and all manner of technological debris.
I used to shop there occasionally, but more often than not I would just go in to salivate at the rich bounty of junk inside. Once as I was leaving the store, a guy came in lugging a big box of old magazines, hoping to sell them to the proprietor. The owner wasn't interested, but when the guy saw my eyes bulging out of my head at the contents of the box, he asked me If I wanted them, and gave me the whole lot. I harvested nearly 60 copies of Popular Science, and Mechanics Illustrated from 1947-1959. I'm going to start posting the better covers, and select content.
This is sort of a tie-in with the publishing of my first article for O'Reilly's Make magazine which shares not only the digest-sized format, but also the tinkerer, hacker, builder spirit of these old gems.
First up June, 1953. This outstanding cover features a woman admiring 'The Fanciest Car you can buy" and a very nice illustration of some retro-futuristic, Michelin Tire man-looking astronauts doing a space-walk. Smack-dab in the middle is a bright orange burst touting the included science-fiction book digest, which was Arthur C. Clarke's Island In The sky.